Deputy Minister Le Quoc Hung asks Ho Chi Minh City police to give timely aid to people in need
22:41 08/09/2021
Major General Le Quoc Hung, Deputy Minister of Public Security and Commander of the Ho Chi Minh City-based Interim Front Command of the Ministry of Public Security (MPS), had a meeting on September 6 with the Ho Chi Minh City Municipal Police Department on the implementation of social distancing and COVID-19 pandemic prevention and control.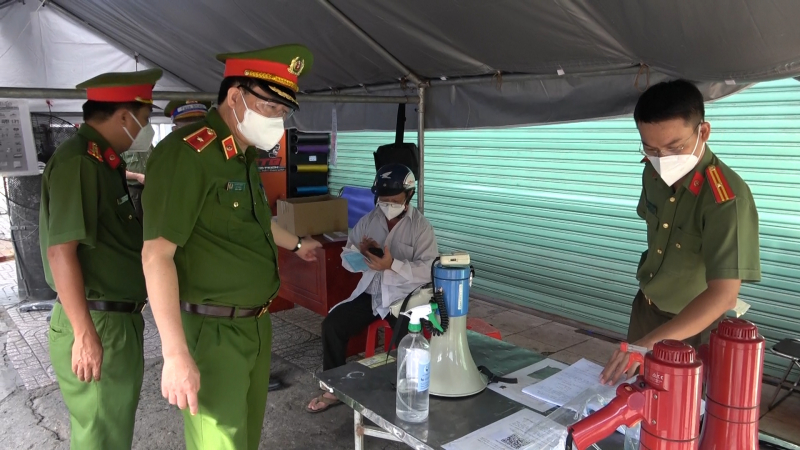 At the meeting, a leader of the Police Department for Administrative Management of Social Order delivered a report on the deployment of an application helping functional forces check the medical declarations of people at checkpoints.
According to the report, thanks to the application, the department has detected nearly 60 COVID-19-infected cases and more than 11,000 citizens with high risk of contracting COVID-19.
Additionally, the police of Ho Chi Minh City have mobilized citizens to make online health declarations from their homes so they should bring along travel permits and their medical QR-codes when going out.
Deputy Minister Le Quoc Hung requested the police subunits in all districts and Thu Duc city to closely coordinate with the relevant forces to tightly check people and vehicles at the checkpoints via the use of the application, and strictly handle violations of the regulations.
The local police units should also deploy more forces to checkpoints while the grassroots-level police force should go to each household gathering information about and closely monitoring suspects of infection. Police officers at the grassroots-level should list and provide timely aid to people in need and encouraged all people to strictly observe social distancing regulations, the Deputy Minister said at the meeting.
He also asked the police of Ho Chi Minh City to provide sufficient food and accommodations as well as medical services for police officers and soldiers working at checkpoints.
The city's police leaders should promptly recognize and praise individuals and teams with outstanding achievements in fight against the pandemic, Deputy Minister Hung stressed.