Deputy Minister Le Van Tuyen inspects task performance of An Giang police
Thứ Ba, 15/11/2022, 23:34
A delegation of the Ministry of Public Security led by Deputy Minister Major General Le Van Tuyen recently conducted an inspection of the task performance of police forces in An Giang province in 2022.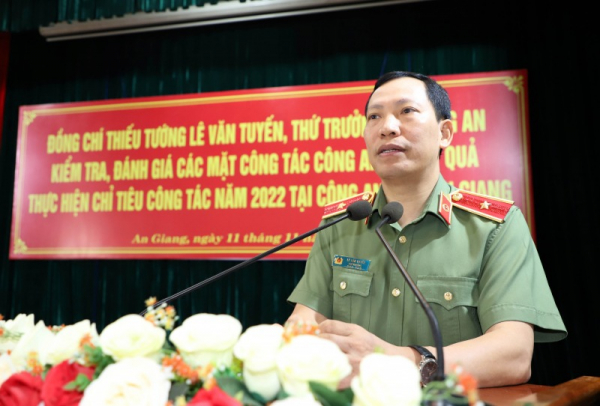 The working session saw the presence of Vice Chairman of An Giang Provincial People's Committee Tran Anh Thu.
Senior Colonel Lam Phuoc Nguyen, Director of the An Giang Provincial Police Department, briefed delegates at the working session on the security and order situation in the province in 2022.
Mr. Tran Anh Thu applauded the effort of the provincial police forces to ensure political security, social order and safety, facilitating socio-economic development of the province.
Meanwhile, Deputy Minister Le Van Tuyen spoke highly of the achievements gained by the provincial police forces over the past time.
He said, An Giang is a key locality in terms of both socio-economic development and security-defense in the Mekong Delta, so it has factors that potentially lead to complex political security and social order issues.
The Deputy Minister asked all police units in the province to take measures to overcome their shortcomings and fulfil all given tasks.
They should make effort to effectively implement Resolution No. 12-NQ/TW issued by the Politburo on the building of truly clean, strong, regular, elite, modern People's Public Security Forces, meeting task requirements in the new situation while focusing on crime prevention and combat from now until the Lunar New Year of 2023 according to the directions of the Ministry of Public Security.