Deputy Minister Le Van Tuyen works with Hospital 30-4
19:37 13/05/2022
Deputy Minister Major General Le Van Tuyen leading a delegation of the Ministry of Public Security (MPS) on May 12 paid a visit to Ho Chi Minh City-based Hospital 30-4.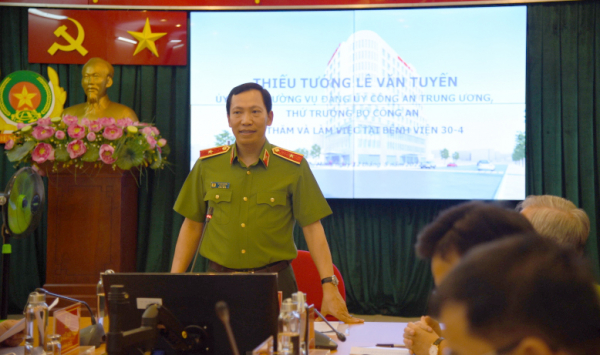 Senior Colonel Vu Hai Nam, Director of Hospital 30-4, briefed the deputy minister and other delegates on the hospital's efforts in providing healthcare services   for policemen and civilians with health insurance in the South.
Speaking at the meeting, Deputy Minister Le Van Tuyen applauded the important achievements of Hospital 30-4 over the past time, especially in prevention and control of the COVID-19 pandemic.
Deputy Minister Tuyen requested the hospital to focus on personnel work, training of staff and effective use of facilities in the coming time.
Hospital 30-4 should continue to play its role as a level-1 General Hospital of the People's Public Security Forces, so its leaders, doctors and staff should take into consideration all recommendations and opinions of their patients to improve the quality of its healthcare services.
The hospital should proactively map out a master plan to develop the hospital until 2030. Meanwhile, its leadership was asked to actively carry out technology transfer and improve professional qualifications for its staff, especially the young doctors and nurses.