Deputy Minister Nguyen Van Long works with Dien Bien police
20:26 22/04/2022
A delegation of the Public Security Ministry (MPS) led by Deputy Minister, Major General Nguyen Van Long, paid a working visit to Dien Bien province from April 18 to 20.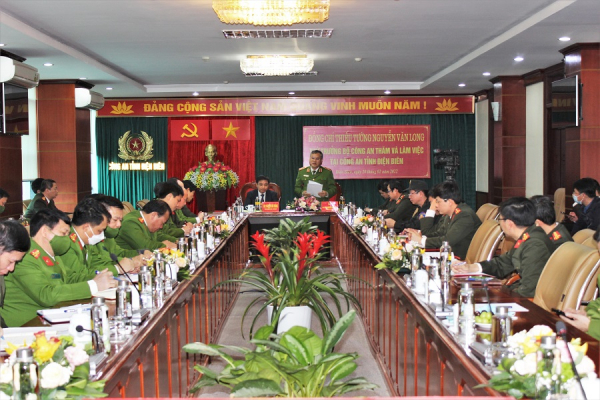 At the meeting held on April 20, Mr. Mua A Son, Vice Secretary of the Provincial Party Committee of Dien Bien, appreciated the great effort of the Provincial Police Department in preventing fire, and ensuring traffic safety and order in the past time.
Deputy Minister Nguyen Van Long spoke highly of the Party Committee and Directorate of the Provincial Police Department in directing local police units in ensuring security and order, especially in fire prevention and fighting as well as in ensuring traffic order and safety.  
He also pointed out shortcomings that the Provincial Police Department should strive to overcome in the coming time.
Earlier, the MPS delegation offered incense at the A1 Martyrs' Cemetery, visited families of former Chairman of the Fatherland Front Committee of Lai Chau province Mua A Sau and Senior Colonel Giang Pao Ly, former Deputy Director of Lai Chau Provincial Police Department.
The delegation paid a visit and worked with the local Party committees, authorities, people and communal police officers in Sin Thau commune and A Pa Chai Border Station.