Deputy Minister Nguyen Van Son works with Hospital 30-4
22:59 21/02/2022
Deputy Minister Senior Lieutenant General Nguyen Van Son leading a delegation of the Ministry of Public Security (MPS) on February 19 paid a visit to Ho Chi Minh City-based Hospital 30-4.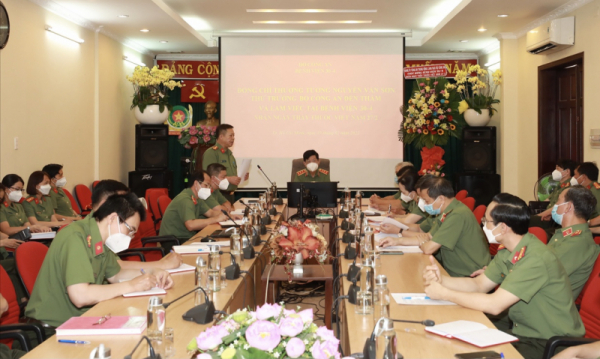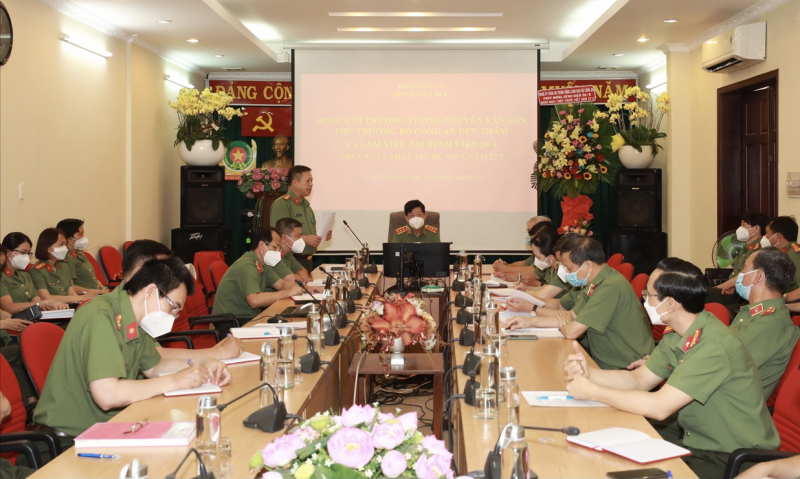 Over the past time, the medical staff of Hospital 30-4 have wholeheartedly provided healthcare services for police officers, soldiers and civilians with health insurance in the South.
Last year, the hospital  also sent its doctors and nurses to attend refresher courses, contributing to improving their qualifications for diagnosis and treatment.
Moreover, the hospital put into use automatic queue management and non-cash payment systems in order to effectively prevent the COVID-19 pandemic and meet the Government's requirements for conducting electronic payment and level-4 online public services.
It also applied information technology advances to medical examination and treatment management.
Regarding the fight against the COVID-19 pandemic, Hospital 30-4 successfully completed the tasks assigned by the MPS leadership, treating thousands of infected patients, promptly isolating suspected cases, and providing medicines and medical supplies for on-duty anti-pandemic forces.
Speaking at the meeting, on behalf of the MPS leadership, Deputy Minister Nguyen Van Son praised the important achievements of the public security health sector in general, Hospital 30-4 in particular in prevention and control of the COVID-19 pandemic.
Deputy Minister Son stressed that Hospital 30-4 in the coming time should continue to play its role as a level-1 General Hospital of the People's Public Security and direct local police hospitals, infirmaries in the South (from Khanh Hoa to Ca Mau) to well perform their tasks.
He also asked the hospital closely to coordinate with relevant public security agencies and medical facilities in the Southern region in taking care of health of officers, soldiers and people.
On the occasion of the 67th Vietnamese Doctors' Day (February 27, 1955 - 2022), Deputy Minister Nguyen Van Son sent his best wishes to all leaders and staff of Hospital 30-4 and hoped that they will excellently fulfill their duties.
At the event, Deputy Minister Nguyen Van Son presented Certificates of Merit from the MPS to three doctors of Hospital 30-4 who had excellent achievements in their work.