Emulation Grouping 3 signs emulation agreement in 2023
Thứ Tư, 15/03/2023, 22:45
PSNews - The member units of Emulation Grouping 3 under the Ministry of Public Security (MPS) in March held a ceremony in Bac Giang Province to sign a mutual emulation agreement for the movement "For National Security" in 2023.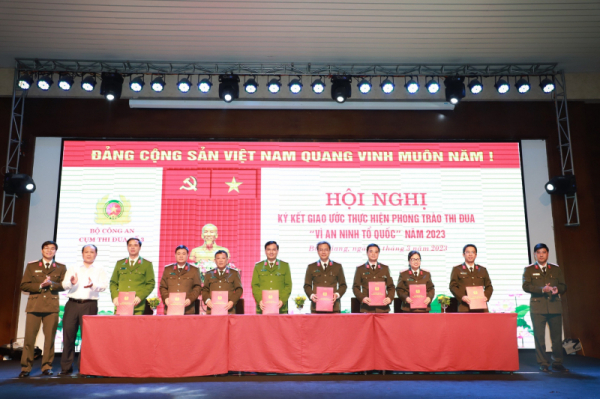 Emulation Grouping 3 includes the Police Departments of Bac Giang, Bac Kan, Hoa Binh, Phu Tho, Quang Ninh, Thai Nguyen, Tuyen Quang, Yen Bai Provinces.
At the ceremony, the units discussed on all contents of the emulation agreement, including the emulation criteria and the cross-checking mechanism among units.
Through the discussion, the units adopted a plan to implement the emulation movement "For National Security" in 2023 and signed the mutual agreement among one another in performing their duties in 2023.
The agreement focuses on further strengthening Party building and building a clean and strong public security unit with an objective of 50% member units of the grouping to be awarded emulation flags by the Ministry of Public Security, of which one unit will receive the Government's emulation flag.
Speaking at the event, Mr. Le O Pich, Vice Chairman of the Bac Giang Provincial People's Committee, spoke highly of the role and the achievements of the police units under Emulation Grouping 3 in grasping and forecasting the situation as well as in advising the local authority to manage and resolve issues related to national security and local social safety and order.
He hoped that the emulation movement among member units of Emulation Grouping 3 will be promoted and widely participated, contributing to maintaining political stability, and speeding up economic and social development in the locality.