Minister To Lam inspects public security law-drafting agency
19:24 13/08/2021
PSNews - General To Lam, Politburo Member and Minister of Public Security, on August 12 worked with the Department of Legal Affairs and Administrative, Judicial Reforms under the Ministry of Public Security (MPS) on the Public Security Forces' support for law-making work.
According to Major General Pham Cong Nguyen, Director of the Department of Legal Affairs and Administrative, Judicial Reforms, over the past time, the unit has advised the Public Security Central Party Committee and the MPS leadership on many important legal issues.
They also drafted and proposed the promulgation of new legal documents, which have institutionalized the policies and guidelines of the Party, State and Government on ensuring national security and social order in the new situation.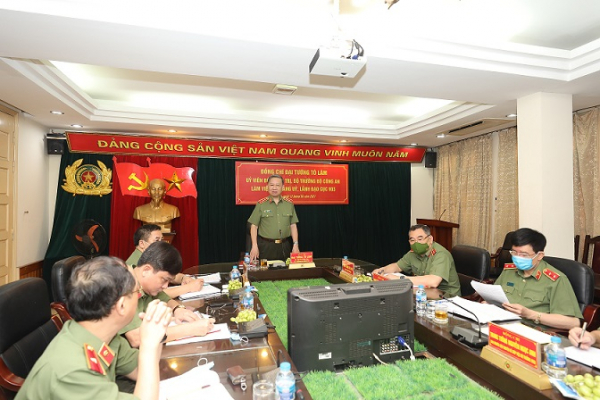 The department holds primary responsibility for building the Mobile Police Law project, which is expected to be discussed during the 2nd session of the 15th National Assembly.
They are also drafting some bills, which are expected to be included in the National Assembly's Law-making Program in 2022 and the following years.
In order to further develop and perfect the legal system for the organization, staffing and operations of the Public Security Forces in the coming time, Minister To Lam asked leaders of the department to uphold their sense of responsibility, ensure the progress and quality of draft legal documents.
They should also enhance check and review of legal documents and regulations in order to promptly detect confliction, overlapping and irrelevance of laws, policies and official documents so as to propose solutions to the issues.
According to the minister, the compilation of new laws should be attached closely to efficient enforcement of laws and administrative reforms.
Minister To Lam stated that the department must adhere to the Party's guidelines, the Constitution, and relevant laws to institutionalize legal documents and policies, proactively review and advise its upper levels on building and perfecting institutions, and avoiding difficulties and obstacles in enforcing the laws.
Minister Lam also asked the department to strengthen international cooperation in drafting legal documents while improving professional expertise of their staff and earmarking more resources for law-drafting work.