MPS continues supporting HCMC in COVID-19 fight
22:23 30/10/2021
Minister of Public Security General To Lam received a delegation from the Ho Chi Minh City (HCMC) Party Committee led by its Secretary Nguyen Van Nen on October 28 in Hanoi.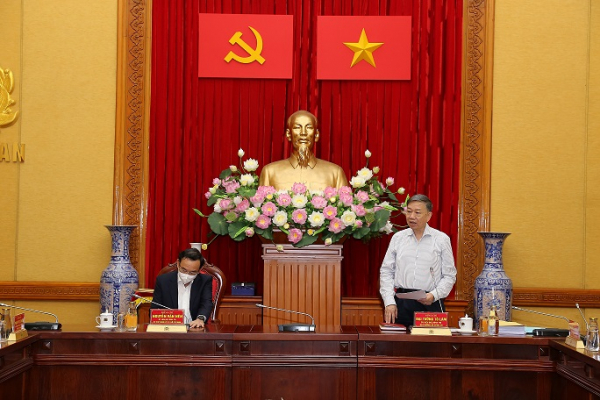 The event also saw the presence of Deputy Minister of Public Security Lieutenant General Nguyen Duy Ngoc as well as leaders of the HCMC People's Committee, representatives of departments and sectors of HCMC and units under the Ministry of Public Security (MPS).
Speaking at the meeting, on behalf of the leadership of the Public Security Forces, Minister To Lam expressed deep sympathy with the difficulties and losses that the government and people of HCMC are suffering during the dangerous COVID-19 pandemic. He also congratulated the city on its success in putting the pandemic under control.
According to Minister To Lam, over the past time, the Public Security Forces, especially the HCMC-based under-ministerial agencies and the HCMC Municipal Police Department, have taken drastic measures to ensure security and social order in the city while joining efforts in fighting the disease.
Particularly, the MPS established an Interim Front Command based in HCMC led by a deputy minister to direct police forces in the South in preventing and controlling the pandemic. 
During the outbreak of the pandemic, more than 2,500 police officers and soldiers were sent to HCMC to help local police run medical checkpoints and maintain security and order. Meanwhile, many police doctors and nurses voluntarily came to the epicenter to run field hospitals and treat COVID-19 patients.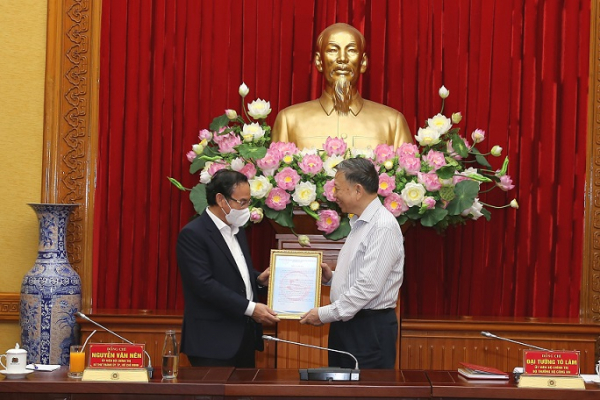 On behalf of the HCMC authorities and people, Secretary of the HCMC Party Committee Nguyen Van Nen thanked the Public Security Forces for their support to the city during the pandemic and suggested the MPS to promptly reward police officers and teams with outstanding achievements. 
He also wished that the MPS and the Public Security Forces will further coordinate and assist HCMC in safely and flexibly adapting to the pandemic and protecting people's health.
For his part, Minister To Lam affirmed that the Public Security Forces will continue to thoroughly implement directions of the Party Central Committee, the National Assembly, the Government and the Prime Minister on ensuring the safety of people, maintaining security and order, fighting crimes in the "new normal state", contributing to socio-economic recovery and development.