MPS Frontline Command works with Kien Giang police on anti-pandemic efforts
22:17 16/09/2021
PSNews - A delegation of the Interim Frontline Command of the Ministry of Public Security (MPS) led by Major General Bui Quang Hai, Deputy Chief of the MPS Office and Standing Deputy Commander of the Frontline Command, worked with the Kien Giang Provincial Police Department on the COVID-19 pandemic prevention and control, as well as security and social order protection in the locality.
According to Vice Chairman of the Kien Giang Provincial People's Committee Nguyen Luu Trung, the province is at a high risk of a pandemic outbreak.
Over the past time, the provincial police have quickly traced COVID-19 infected and suspected, contributing to effectively zoning, eradicating sources of infection and stamping out the outbreak.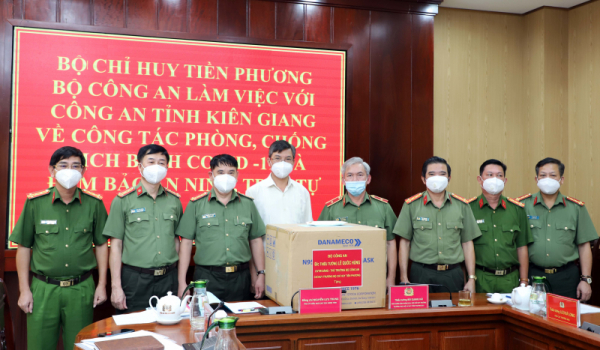 The police force of Kien Giang province also applied software to control and manage people's traveling at 72 checkpoints across the province while using drones (flycams) to oversee citizens' observance of social distancing.
The provincial police also deployed forces to protect isolated areas, quarantine zones, and medical facilities for COVID-19 patients.
Speaking at the meeting, Major General Bui Quang Hai asked the Kien Giang provincial police to advise the Provincial People's Committee to quickly set up quarantine and treatment facilities for prisoners in detention centers as well as provide support for officers and soldiers participating in the pandemic prevention and control. 
Particularly, the local authorities should arrange field accommodations for the frontline forces while caring for their health and safety. 
Major General Hai also asked the local police to further apply information technology in tracing COVID-19 suspects and managing vehicles in the province.
The police of communes and wards should grasp the situations of local households and people, and promptly advise local Party committees and authorities to support needy people.
On this occasion, the MPS Interim Front Command presented medical supplies and dried food to the Kien Giang Provincial Police Department.