MPS Interim Front Command reviews task performance
22:19 15/10/2021
The Ho Chi Minh City-based Interim Front Command under the Ministry of Public Security (MPS) held a meeting on October 13 to review results of the fight against the pandemic in the South as well as roll out work plans in the "new normal" state in southern provinces, under the directions of the Party and Government.
The event was chaired by Major General Le Quoc Hung, Deputy Minister of Public Security and Chief of the Interim Front Command. It also saw the presence of Secretary of the Ho Chi Minh City Party Committee Nguyen Van Nen.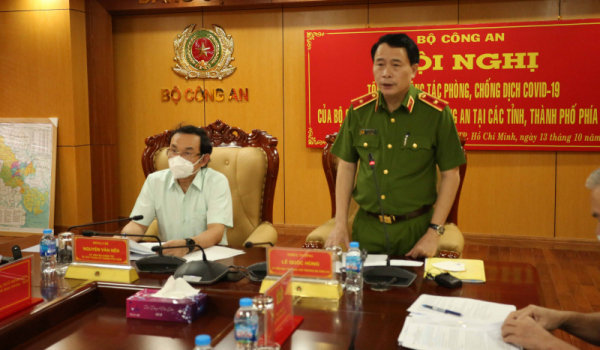 Reports delivered at the event read that, since its establishment, the MPS Interim Front Command has given the Government strategic advice to promptly respond to the rapid and complicated development of the pandemic as well as directed South-based public security units to strictly handle cases of spreading false information about the COVID-19 on cyberspace.
Additionally, the MPS Front Command directed police forces at anti-pandemic checkpoints to actively support people travelling from pandemic-hit localities to their home villages.
It also directed the establishment of steering sub-committees and Front commands in 25 Southern provinces and cities to lead local police anti-pandemic efforts as well as advised the people's committees of localities to establish interdisciplinary working groups with police forces as the core to trace COVID-19 infected cases and suspects and inspect pandemic prevention and control in industrial parks.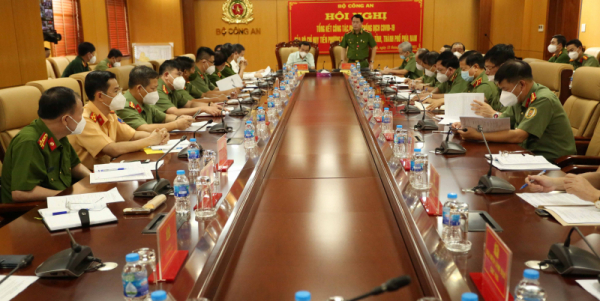 Under the Front Command's leadership, the police units of Southern provinces and cities sent forces to support communal-level police posts in conducting patrols and running anti-pandemic checkpoints.
Meanwhile, it directed the communal police to make lists of people in need for support in line with directions of the Government. The communal police also made a great contribution to mobilizing local people to follow social distancing regulations. 
Speaking at the event, Mr. Nguyen Van Nen affirmed that the local police forces had contributed positively to ensuring safety and social security as well as to fighting the pandemic, and supporting people travelling to their home, while actively donating blood to save lives during the pandemic.
To conclude the meeting, Deputy Minister Le Quoc Hung emphasized that the police forces should play a key role in zoning infected areas, quarantining people exposed to the virus and controlling the pandemic in the coming time while closely coordinating with other forces to draw up plans in response to post-epidemic situations.
The Deputy Minister asked the public security media and press agencies to reflect activities of the police and military forces in the fight against the pandemic. The cybersecurity force should continue to seriously handle and prevent false information about the pandemic on the cyberspace, Deputy Minister Hung added.