MPS leader works with HCMC on ensuring public order and security in post-COVID-19 period
20:58 17/10/2021
Lieutenant General Nguyen Duy Ngoc, Deputy Minister of Public Security, leading a delegation of the MPS, on October 15 worked with the Municipal Police Department of Ho Chi Minh City discussing approaches to further control the pandemic and ensure public order, security in the post-COVID-19 period.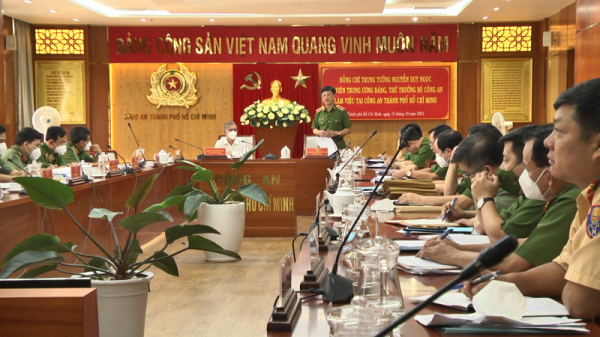 According to report at the event, the city's police forces had successfully maintain local security and order while contributing to local COVID-19 prevention and combat.
The number of criminal cases between August 16 and October 10 in the city dropped 51% compared with the same period last year.
Corruption, smuggling and economic cases decreased 91.4%. However, the local situation still remains potentially complex. There may be acts of abusing positions and powers, or intentionally violating State regulations, seriously affecting the implementation of policies on social security, COVID-19 vaccination, and COVID-19 treatment.
Meanwhile, transnational criminal networks are using more artful tricks in trafficking illicit drugs, making the situation more complicated.
Speaking at the event, Vice Chairman of the HCMC Municipal People's Committee Ngo Minh Chau applauded the efforts and achievements of the city's police forces over the past time in the complicated context of the pandemic.
As the city gradually eases social distancing measures, criminals tend to increase their activities, Deputy Minister Nguyen Duy Ngoc noted. He requested that the city's police forces should now demonstrate their ability and determination to prevent and control crime in the city.
He asked all officers and soldiers of the local police to thoroughly grasp the contents of the MPS's plan "Taking more measures to prevent and fight crime while ensuring social order and safety during and after the COVID-19 pandemic".
At the same time, the city's police should early complete their task of building the city's national database on population, contributing to bringing the city to a new normal.