Muong Lat police ensure security and order while fighting pandemic
20:25 15/09/2021
The police force in Muong Lat district, Thanh Hoa, has taken various measures to ensure security and order while preventing and fighting the COVID-19 pandemic over the past time.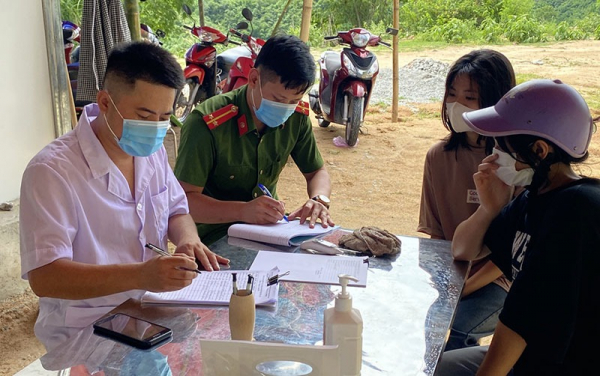 Given the complicated situation of the COVID-19 pandemic in the locality, the police force of Muong Lat coordinated closely with the border guard force to enhance patrol in border areas and mobilize local people to follow the regulations on COVID-19 prevention and control.
The functional forces have detected and handled 10 illegal border crossing cases since July.
Muong Lat district has applied social distancing measures in accordance with the Prime Minister's Directive 15 since an infected person returned home from a pandemic-hit area in early September.
The Police Station of Muong Lat suggested the local authorities establish various checkpoints to control local people's traveling and check their obedience of the pandemic prevention regulations.
They also tracked all people contacting the infected patient.
The police of Muong Lat also checked travel histories of all residents while encouraging local households, businesses, schools in the locality to commit to the anti-pandemic regulations.
Over the past weeks, the police have detected and handled 14 cases of violating the pandemic regulations and fined a Facebook account which had posted fake information about the local pandemic situation, causing public anxiety.
In addition to their COVID-19 prevention and control effort, the local police also ensured security and order in the district. The district police have investigated 7 drug-related cases, arrested 7 people involved, since mid-July.