People's Public Security Forces step up implementation of Project 06/CP
Chủ Nhật, 19/03/2023, 14:45
The Ministry of Public Security held a nationwide online conference to assess the results of one year of implementing the 56/KH-BCA-C06 plan issued on February 11th. 2022 by the Ministry of Public Security (Plan 56) on the implementation of Project 06/CP in the People's Public Security Forces, and draw up key tasks for the forces in 2023, on the afternoon of March 16, 2023, in Hanoi.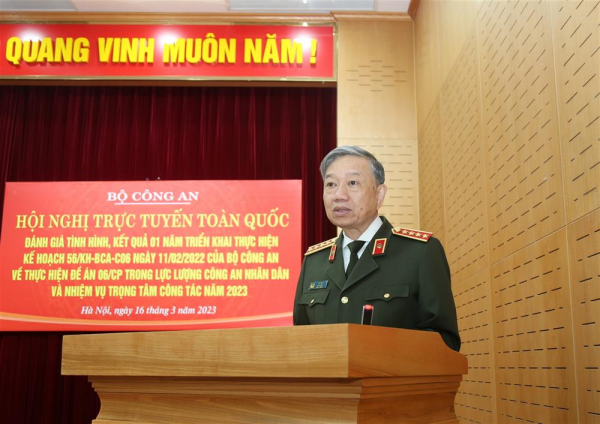 Concluding the conference, Minister To Lam praised the under-ministerial agencies and local police units for their effort and positive results of the implementation of Plan 56 in the past 1 year. 
Regarding major tasks in the coming time, the Minister suggested that the Directors of provincial-level police departments and equivalents focus on reviewing and identifying in 18 task lists that need to be completed.
They should also perfect institutions, creating a favorable legal framework for subunits to implement Project 06 and to solve new problems arising in the implementation process. 
In the immediate future, Minister To Lam asked the Department of Legal and Administrative Reform and Judiciary Affairs under the Ministry of Public Security to urgently review and amend circulars, decisions and legal documents under the authority of the Ministry of Public Security related to paper household registration books and temporary residence books.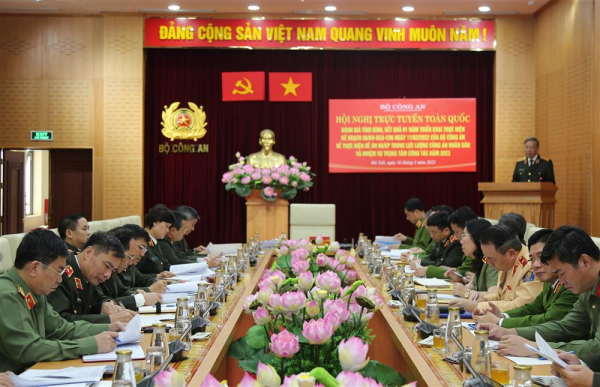 Public security agencies and units continue to improve the efficiency of online public services for people and businesses to participate in the implementation of the project while enhancing research and application of population data, citizen identification, electronic identification and authentication for economic and social development, development of digital citizenship, and comprehensive use of electronic identifiers, VNeID to clean data and create new accounts (for mobile subscription information, taxes, opening bank accounts, deploying social security applications, non-cash payments for insured subjects, social assistance).