Rescue mission from MPS presents medical aid to city of Adiyaman
Thứ Sáu, 17/02/2023, 16:58
The Vietnamese rescue police mission, which is now joining forces in the search and rescue operation in the city of Adiyaman, Turkey, presented medical aid on February 16, 2023, to the local authority to assist locals in overcoming the consequences of the terrible earthquake on February 6.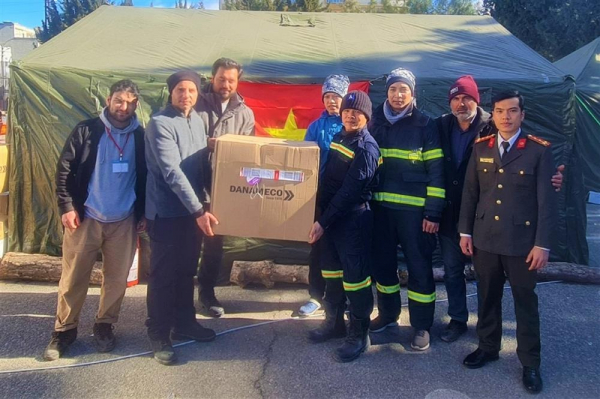 The aid package includes medical equipment, tools used in first aid, essential drugs for treatment of popular diseases, and protective gears used for epidemic prevention and control, which are very needed in case of disaster and emergency situations.
Due to the harsh weather in the country, the Turkish Army's high-tech forces also asked the Vietnamese rescue police officers to help build a field furnace.
Receiving the medical aid package, a representative from the Department of Health of Adiyaman city deeply thanked the Government, the Ministry of Public Security and the people of Vietnam for the meaningful and timely aid, and hailed the support of the Vietnamese rescue police mission.
On the same day, Director of the Education Policy Department BAS Abdulhalik visited and thanked the Vietnamese rescue police mission for helping his nation releave the consequences of the earthquake.