Seminar discusses measures to improve PSA's educational quality
06:03 24/10/2021
PSNews - Recently, the People's Security Academy (PSA) held a scientific seminar themed "The People's Security Academy - 75 years of development" under the chair of Lieutenant General, Assoc. Prof. PhD. Le Van Thang, Director of the PSA.
A report delivered at the seminar highlighted the development of the PSA since its establishment in 1946. 
Over the past 75 years, the academy has trained generations of public security officers, including senior officers, who have contributed to protecting national security over the past years.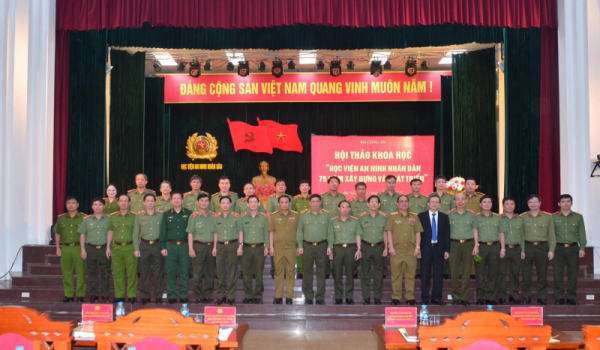 Their outstanding contributions have been recognized by the Party and State. Since its establishment, the academy has been presented with various noble awards, including one Gold Star Order and one Ho Chi Minh Order, the title "Hero of the People's Armed Forces in the country's resistance war" and the title "Hero of the People's Armed Forces in renewal period."
At the seminar, delegates discussed challenges to the development of the academy in the context of globalization and comprehensive international integration. 
They also proposed approaches to improve the training quality of the PSA to meet the requirements of ensuring national security and building the Public Security Forces in the new situation. 
In his speech, Lieutenant General Le Van Thang appreciated the ideas and recommendations of the delegates as well as scientists inside and outside the Public Security Forces. 
He affirmed, the PSA will make more efforts to comprehensively innovate all aspects of training and education, and develop the academy into a top multi-disciplinary educational institution of the Public Security Forces as well as a prestigious higher education institution in the region.
PSA Director Le Van Thang also asked all officers, lecturers, students and workers of the academy to promote the academy's fine traditions, contributing to developing the corps of good teachers and educational administrators deserving to the academy's 75-year history.