Vietnam, Cambodia agree to boost cooperation in preventing and fighting illicit drug trafficking
Thứ Ba, 10/01/2023, 09:49
PSNews - The 3rd Conference between the counter-narcotics forces of Vietnam and Anti-Drug Police Department under the National Police, the Interior Ministry of the Kingdom of Cambodia was opened in Ho Chi Minh City.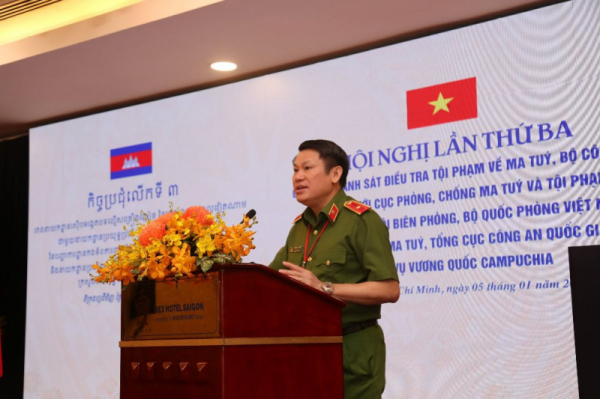 Speaking at the opening of the conference, Director of the Counter-Narcotics Police Department under the Ministry of Public Security (Vietnam) Major General Nguyen Van Vien emphasized, over the years, Vietnamese and Cambodian authorities have closely coordinated in implementing various programs and plans to prevent and fight illicit drug-related crime.
The two sides also stepped up cooperation with other countries in the region and the world to eliminate illicit drugs out of social life. 
The Counter-Narcotics Police Department under the Ministry of Public Security of Vietnam is committed to trying its best to coordinate and support Cambodian partners in the fight against illicit drugs in the coming time.
At the conference, delegates focused on exchanging information on the situation and results of the fight against illicit drug crimes along the shared borderline, and reviewed the coordination between the counter-narcotics police force and drug prevention and control border guard force of Vietnam and Cambodian anti-drug police force in the past time.
In order to continue to improve the effectiveness of drug crime prevention and control cooperation between the forces of the two countries in the coming time, the three anti-drug forces of the two countries should enhance information exchange through the hotline network and border liaison offices (BLO).
Especially information about ringleaders of transborder illicit drug trafficking lines, runaway drug dealers from one country hiding in the other, coordinating in investigating special cases involving transnational drug crimes, joining efforts to destroy drug-related criminal organizations hiding in the form of companies and enterprises in the two countries.