VN, US promote cooperation on crime control
13:29 30/09/2021
The Department of External Affairs (DEA) under the Ministry of Public Security, on 28 September, cooperated with the US law enforcement agencies and pharmaceutical companies Pfizer, Johnson & Johnson, Moderna to hold a webinar with the theme of preventing and fighting crimes relating to the COVID-19 pandemic.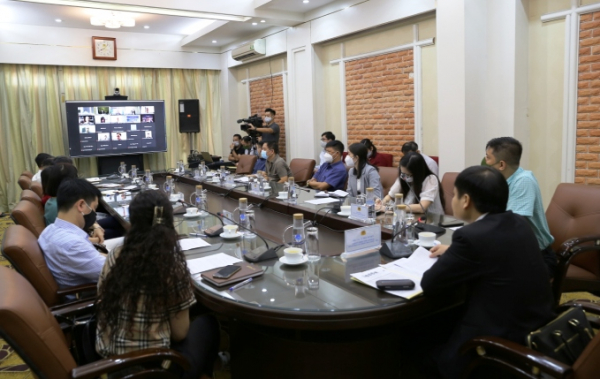 The webinar saw the presence of Mr. Eric McLoughlin, Regional Attaché of the US Homeland Security Investigations (HSI) in Vietnam, Mr. Thomas Lyons, Director of the Office of the US Bureau of International Narcotics and Law Enforcement Affairs (INL) in Vietnam, representatives of the Vietnamese MPS's functional units and the US pharmaceutical companies.
Over the past time, Vietnam and the US have always attached importance to promoting the comprehensive partnership, further developing the bilateral relations in a practical, effective and stable manner, on the principle of respecting each other's national independence, sovereignty, territorial integrity and political system for the sake of peace, stability and development cooperation in the region and the world at large
The Letter of Agreement on assistance in law enforcement and criminal justice between Vietnam and the US signed in May 2016 by former US President Barrack Obama and the then Vietnamese President reflects the development of the Vietnam-US relationship, which has been making great contributions to the two sides' coordination in dealing with regional and global challenges, as well as preventing and controlling crime in each country.
In the opening remarks, Senior Colonel Le Duc Tuyen, Deputy Director of the DEA affirmed that the cooperation between MPS's functional units and US relevant agencies has been expanded with positive outcomes over the past time.
The webinar provided a forum for delegates of the two sides to exchange information, knowledge, experience in halting criminals from taking advantage of the COVID-19 pandemic to commit crimes.
The webinar also helped the two sides establish new cooperation channels, as well as maintain and strengthen the current ones on crime prevention and control in the coming time.