HCMC deploys VIBOTs in the fight against COVID-19
16:33 30/08/2021
PSNews - Recently, the Military Technical Institute handed over several supporting robots to Ho Chi Minh City, aiming to reduce human load in the fight against COVID-19.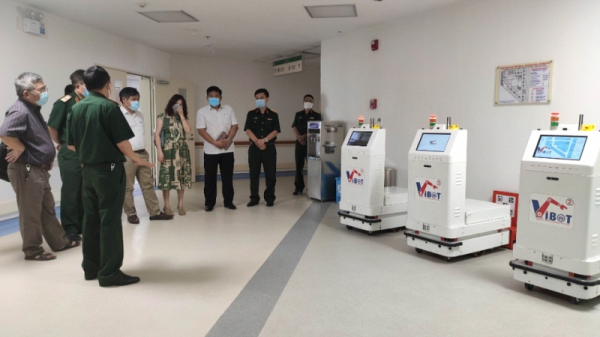 The said robots are able to talk to COVID-19 patients and send information about the situation to medical experts. They can also transport food, drinks, and medical materials to patients' rooms.
Robots will be used in treating process of COVID-19 patients at several medical centers in HCM City - Vietnam's pandemic hotspot. The first three were at the Intensive Care Center for COVID-19 Patients managed by Hue Central Hospital.
As announced, this type of robot, called Vibot, has also been used in COVID-19 isolation and treatment areas in Bach Mai Hospital in Ha Nam province and Bac Giang province's General Hospital in June.
Vibot, weighing 60 kg, with a moving speed of 30 meters per minute, can work for 12 hours continuously. When the battery runs out, it will automatically move to the charging station.
Vibot can replace 3-5 medical staff who have direct contact with COVID-19 patients. It operates according to pre-loaded programs or direct instructions of users.
In addition to reducing the risk of infection, the robot helps medical staff have more time to treat seriously ill patients.