Bac Giang railway station begins int'l freight transportation services
Thứ Bảy, 18/02/2023, 18:49
The Kep railway station in the northern province of Bac Giang launched its international freight transportation services at a ceremony on February 18.
In his remarks, Vice Chairman of the provincial People's Council Nghiem Xuan Huong stressed that such international services are expected help ease congestions of goods in the border area and pressure on the two present international railway stations – Dong Dang and Yen Vien.
The services also enable Bac Giang to open an international border gate in the locality, he added.
The Ministry of Transport said that in implementing the Prime Minister's Directive No. 03/CT- TTg, the transport sector has sped up the implementation of yearly plans and projects since the beginning of this year, including those on international freight transportation services, thus facilitating cross-border exporting activities.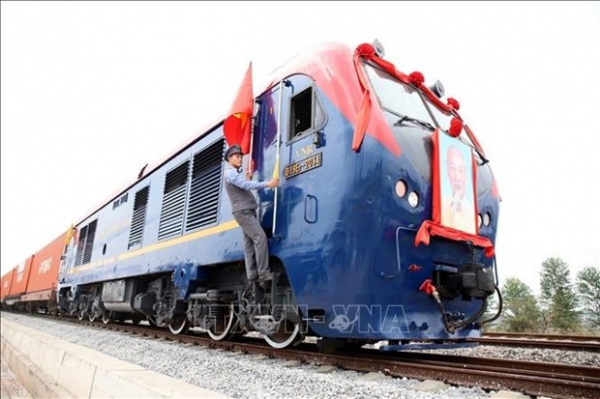 The Kep station has seen its infrastructure upgraded after the ministry decided to turn it into an international one, with all items now ready for the first phase of operation.
There will be a fleet of trains running from Kep to Dong Dang station in the border province of Lang Son and then to China's Pingxiang station.
The Kep station's handling capacity is from 80 to 100 carriages or containers per day. Freight includes electronics and industrial products, construction materials, industrial wood, and ore.
A bonded warehouse is expected to be built at the station to serve the import and export activities of enterprises in Bac Giang and Bac Ninh provinces and neighbouring localities. It specialises in receiving refrigerated containers transported from the south which will then be exported to China.
Currently, the VNR is managing international freight terminals, namely Lao Cai, Yen Vien, Hai Phong, Dong Dang, Giap Bat, and Song Than.
The demand for international freight railway transportation grows 6% annually. Notably, since 2022, about half of the cargo has been transported in containers.