Business forum talks decade of sustainable development
Thứ Năm, 09/12/2021, 21:50
The 8th Vietnam Corporate Sustainability Forum (VCSF) took place in Hanoi on December 9, with a focus on working towards a decade of sustainable development so that no one is left behind.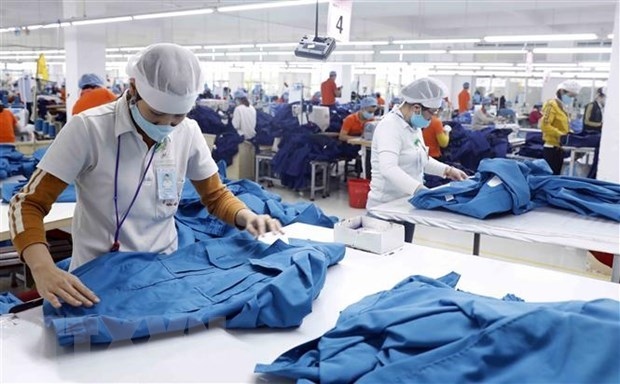 The annual event was organised by the Vietnam Chamber of Commerce and Industry (VCCI) and the Vietnam Business Council for Sustainable Development (VBCSD). It served as an occasion for enterprises to discuss and propose solutions to the Government to improve their resilience, competitiveness, and sustainable development.

Speakers at the forum provided an insight into the national strategy for green growth 2021 - 2030, updates to the Nationally Determined Contributions, enterprises' contributions via sustainable business models, and important strategic orientations for scientific - technological development to boost Vietnam's digital economy.

VCCI Chairman Pham Tan Cong said sustainable development is the common trend that the whole world is working towards, and it is also a strategic goal that the Vietnamese Government is determined to achieve.

In particular, in the current trying time, when the country and others around the world are facing an array of challenges posed by natural disasters, political uncertainty, and the COVID-19 pandemic, it is even more necessary to work towards a decade of sustainable development without anyone left behind.

VBCSD Vice Chairman and Secretary General Nguyen Quang Vinh said the pandemic is like a harsh test for the "health" and "mettle" of businesses, elaborating that when the consumption demand dives, export and import encounter difficulties, and supply chains are disrupted, enterprises have to make adjustments and issue appropriate business strategies. Enterprises that are  unable to adapt to those challenges will suffer from stagnation in their production and business activities, revenue decline, and bankruptcy risk.

The number of firms dissolved in the first 11 months of 2021 exceeded 100,000, rising by over 15% year on year, he revealed.

However, businesses that have pursued sustainable development for many years have already had "antibody" against the pandemic, maintained stable operations, and even made breakthrough growth. They have also substantially contributed to the pandemic combat and the settlement of consequences, Vinh said.

Adopting a sustainable development strategy is like an effective "dose of vaccine" for businesses against adverse impacts of the pandemic, he added.