Cashew nut export value hits US$2.29 billion in nine months
Thứ Bảy, 08/10/2022, 21:34
Vietnam exported 382,000 tonnes of cashew nuts abroad worth US$2.29 billion during the opening nine months of the year, down 10.6% in volume and 14% in value year on year, according to figures given by the General Department of Vietnam Customs.
September alone witnessed the country rake in US$245 million from cashew exports, down 14.6% in volume and 10.3% in value compared to the previous month. The average export price of Vietnamese cashew nuts dropped by 3.7% to US$5,992 per tonne, against the same period last year.
Experts largely attribute this decline to the negative impact of the ongoing Russia-Ukraine conflict, global economic recession, and high inflation hitting major economies, all of which have forced consumers to tighten their belts.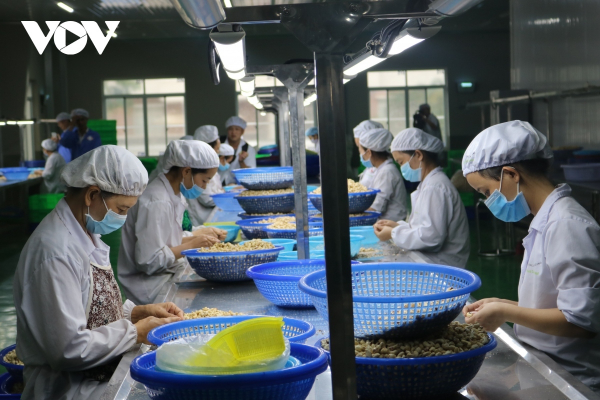 All of these external factors represent hurdles that are likely to make the United States move to reduce cashew nut imports in the remaining months of the year, despite facing a probable increase in consumption demand.
High-priced products are therefore unlikely to be the options of many people amid a gloomy outlook for the global economy, according to predictions made by think thanks.
However, they said there are still positive signs ahead as the demand for cashew imports from the EU and China has edged up remarkably, suggesting the local cashew industry strive to take full advantage of new-generation free trade agreements (FTAs) in order to boost exports to these markets.
At present, exports of most types of cashew nuts have increased, with the exception of the W240 and DW cashew grade.
The export proportion of W320 cashew accounted for 41.31% of the total volume and 45.53% of the total value, while that of W240 cashew made up 14.03% of the volume and 16.28% of the value.