China remains largest consumer of Vietnamese rubber
Thứ Hai, 20/03/2023, 21:52
According to statistics of the General Department of Vietnam Customs, in February 2023, rubber exports reached more than 131 thousand tons, worth 185 million USD.
Accumulated in the first 2 months of 2023, Vietnam's rubber exports reached more than 266 thousand tons, worth 367.8 million USD, down 9.5% in volume and 28.3% in value over the same period last year.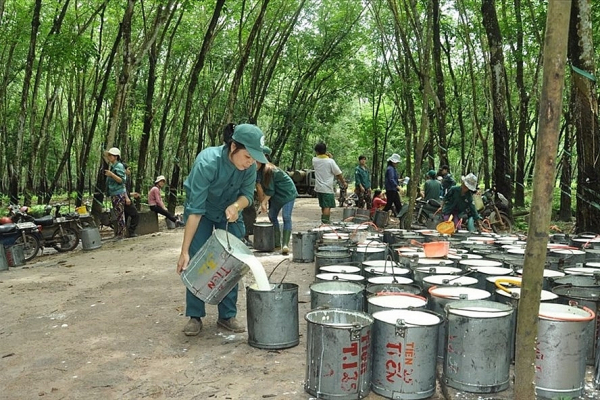 Regarding export prices, in February 2023, the average export price of rubber reached 1,411 USD/ton, up 4.3% compared to January 2023, but down 21.1% compared to February 2022.
In February, China was still the largest market for Vietnam's rubber consumption, accounting for 75.35% of the country's total rubber exports, with nearly 98.79 thousand tons, worth 133.56 million USD. The average export price of rubber to China was at $1,372/ton, up 3.7% compared to January 2023.
According to Agricultural Securities Company (Agriseco), China is the world's largest natural rubber import market, with a consumption market share of more than 43 per cent. It is also the largest rubber importer of Vietnam, accounting for nearly 80%  in 2022.
The reopening of China on January 8, 2023, will boost rubber demand for the production of tubes and tyres. Rubber manufacturing and exporting enterprises will benefit from the reopening and expect positive business results in 2023.
China's increase in rubber imports for production will be an important condition for prices to rise again after the last price reduction period.
According to information from the Ministry of Agriculture and Rural Development, Vietnam currently ranks third globally in rubber export value and is present in more than 80 countries and territories, particularly China, the US, the EU, South Korea and India.
In 2022, the total export turnover of the rubber industry was estimated at 10.3 billion USD, up 8.5 per cent compared to 2021. Natural rubber exports were estimated at 2.14 million tonnes, worth 3.31 million USD, up 9.6% in volume, but only 1.1% in value compared to 2021.