PM receives leaders of US enterprises in New York
Thứ Sáu, 22/09/2023, 23:08
Prime Minister Pham Minh Chinh hosted separate receptions in New York on September 21 for leaders of several US corporations as part of his trip to attend the high-level week of the UN General Assembly's 78th session.
Prime Minister Pham Minh Chinh hosted separate receptions in New York on September 21 for leaders of several US corporations as part of his trip to attend the high-level week of the UN General Assembly's 78th session.
During separate meetings with representatives from Apple Inc., Boeing Company, Google, Siemens Healthineers, the PM reiterated his commitment to create favourable conditions for US enterprises to operate effective business in Vietnam.
Chinh suggested that Apple continue to expand investment in Vietnam, increase the local content and work as a bridge for US firms and Apple's partners to invest ịn Vietnam. He hoped that Apple will turn Vietnam into an important link in its supply and production chain.
Meanwhile, he asked Boeing to expand its manufacturing and supply chain in Vietnam and early build its maintenance facility in the country while supporting Vietnamese partners in personnel training and technology transfer so that they can participate deeper in Boeing's supply chain.
The Vietnamese government leader called for Google's continued support for Vietnam's national innovation centre and cooperation in digital transition training for Vietnamese firms as well as in human resources development to meet the demand of the corporation's production and value chain in the country. 
With Siemen Healthineers, PM Chinh asked the group to early invest in the production of hi-tech medical equipment in Vietnam, increase technology transfer to Vietnamese partners and pay more attention to social security in remote areas in Vietnam. 
He pledged that competent authorities will work to study cooperation with the US enterprises, and support them to carry out projects in Vietnam in the spirit of "harmonised benefits and shared risks" as well as ensuring legitimate rights of the State, people and businesses, he stressed.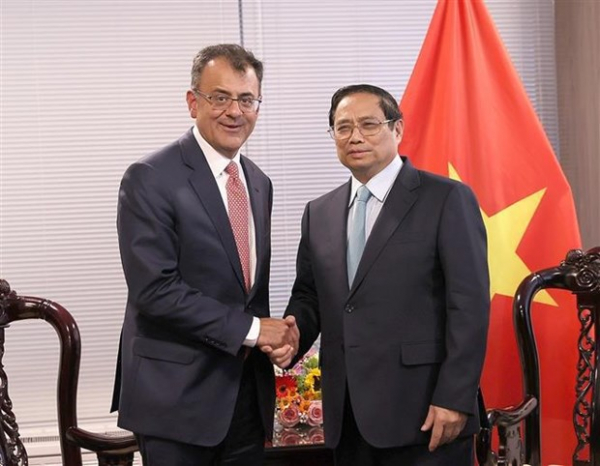 Representatives from the US firms described Vietnam as an important market and expressed their hope to expand business operation in the Southeast Asian country. They asked the Vietnamese Government to continue support them in terms of facilitation of legal frameworks and policies.

On the occasion, PM Chinh witnessed the exchange of investment agreements between firms of the two countries in the fields of industrial park development, green growth support, production and distribution of pharmaceuticals, and human resources training in semi-conductor.
Also on the day, PM Chinh had a luncheon with several major US investors, during which he affirmed that Vietnam always rolls out red carpet for foreign investors, including those from the US.

Vietnam will accompany and provide support for the investors by completing the socialist-oriented market economy, developing infrastructure and human resources, as well as pushing ahead with administrative reform, he said.    
         
He noted that Vietnam will prioritise investments in the fields of innovation, green economy, digital economy, circular economy, sharing economy, semi-conductor, and new and renewable energy, among others.

Meanwhile, the US investors expressed their delight over the sound Vietnam – US relations, which have been developed in a practical and effective fashion, with the economic – trade – investment cooperation having an important role to play.  
     
A lot of measures were discussed at the meeting, helping concretise the targets that both nations have set during the state visit to Vietnam by President Joe Biden.
The same day, PM Chinh chaired a round-table talks with professors and scholars from universities in the northeast region, including Harvard University, Columbia University, New York University and Yale University.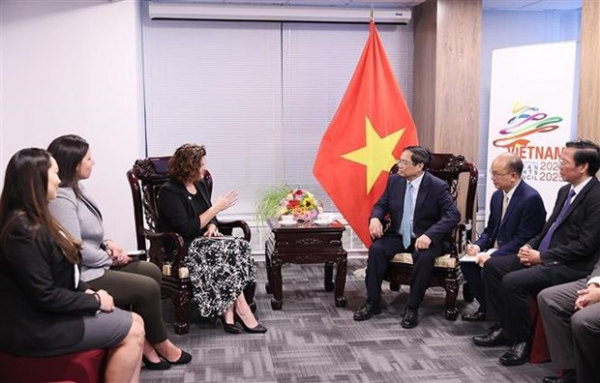 At the event, PM Chinh informed the participants of the Vietnam-US relations, highlighting the upgrade of the ties to a Comprehensive Strategic Partnership for peace, cooperation and sustainable development, with the US respecting Vietnam's political institution, independence and territorial integrity and supporting a strong, independent resilient and prosperous Vietnam.

He also laid stress on Vietnam's recent economic achievements despite complicated developments in the world, while pointing out several hindrances of the economy such as slow recovery of industrial production, inflation under pressure, and bottlenecks in corporate bond markets and realty market.

Vietnam always treasures the sound collaboration and valuable support from the US partners, and wants to continue receiving assistance from the US education establishments in education training and policy consultancy, the PM said.

US scholars and leaders from the Vietnamese ministries, branches and sectors discussed measures to help Vietnam develop new growth momentums, and enhance its resilience and competitive edge.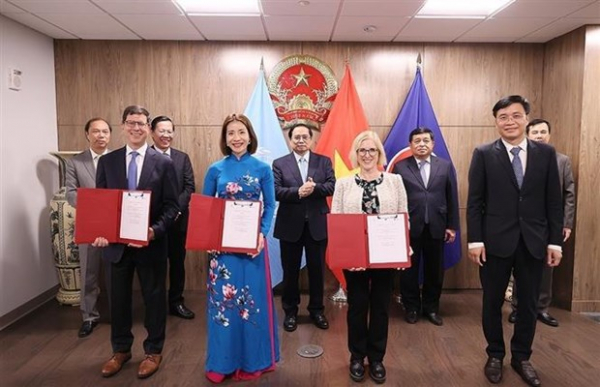 They highly valued Vietnam's ability to handle crisis such as COVID-19, global economic recession, and disruption of supply chain.

They pointed to challenges faced by the world and Vietnam in particular, such as strategic competition, diseases, climate change, shrinking agricultural land and low productivity, and suggested Vietnam sharpen focus on key growth pillars, including exports, investments, consumption, and attraction of high-quality investment.

Vietnam should work to complete its institutions, develop digital infrastructure, and better innovation capacity while paying due heed to improving high-quality human resources, they added.
Chinh welcomed the US scholars' suggestions, describing they are practical for Vietnam's outlining of socio-economic development policy./