UK Trade Envoy for Vietnam: Vietnam-UK relationship will get stronger
Thứ Hai, 11/09/2023, 19:34
The relationship between Vietnam and the UK has never been stronger and will even get stronger, according to the British Prime Minister's Trade Envoy for Thailand, Myanmar, Brunei and Vietnam, Mark Garnier, saying he was optimistic for the future.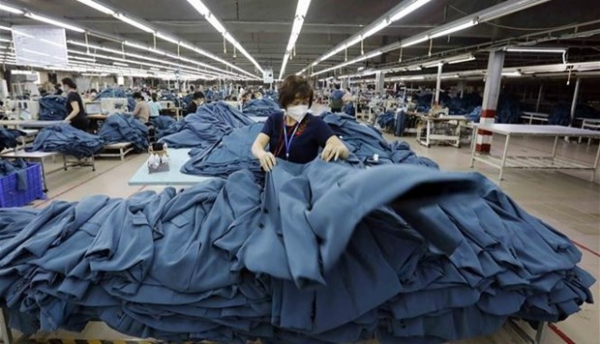 During a recent talk with Vietnam News Agency correspondents in the UK, the Trade Envoy said the two countries are celebrating the 50th anniversary of diplomatic relations and this is a really important point. This offers the two countries a chance to reflect on the extraordinary growth of their friendship, as well as to look ahead to the future and to the next 50 years.

Garnier said the visit of Vietnamese President Vo Van Thuong to the UK in May to attend the Coronation of King Charles III, only his second overseas visit in the role, was a testament to the fact that the bilateral relationship is moving forward on so many fronts. 
The Trade Envoy said the very strong relationship between Vietnam and the UK is evidenced by any number of different agreements, not least the bilateral free trade agreement (UKVFTA) signed in 2020, one of the first big multilateral trade deals signed by the UK after leaving the European Union.

This represents a significant step forward in the two nations' economic and trade ties.  As a result, bilateral trade in 2022 increased 29% from the previous year to around GBP6.9 billion, with the significant majority of the amount coming from Vietnam. But there are a lot of opportunities for the UK to explore in the future, according to the Trade Envoy.

According to Garnier, as the UK has now signed the accession to CPTPP, there are a lot of opportunities for the UK to work with Vietnam, particular in agritech, financial and professional services, pharmaceutical and healthcare industry, education, and certainly, the important green energy production and building up the infrastructure in the energy grid in Vietnam. 

According to the Trade Envoy, joining CPTPP will complement the existing UKVFTA, upgrading bilateral relationship with additional preferential tariffs, providing more interesting opportunity for cooperation between the two countries. With preferential tariffs, the UK is now able to continue importing iconic products from Vietnam, such as Vietnamese shrimps and pomelos whilst Vietnam can enjoy Scotch Whisky and seafood from the UK. 

According to Garnier, the UK and Vietnam share a strategic commitment to global trade and the free flow of capital and investments. CPTPP sets high standards for trade and includes provisions for areas like digital trade, e-commerce, and trade in services that suit modern economies like the UK.

He said joining CPTPP offers considerable opportunities to UK businesses, making it easier for them to trade with the vibrant and dynamic economics in this trade bloc, which represents a combined population of half a billion people with a joint gross domestic product of GBP9 trillion in 2021. He believed Vietnam has a strong position to be able to provide a regional base for UK businesses seeking to tap opportunities from CPTPP.

In the role of Trader Envoy, Garnier saw a great opportunity to help not only British businesses invest into Vietnam but also Vietnamese businesses who want to come and invest in the UK to find a good location and take advantage of the domestic market.

In terms of further promoting the bilateral trade and investment that benefits both countries and enabling this relationship to reach its full potential, he believed stability, predictability, and transparency continue to be key to attracting investment, as does enabling workers and investors to come to Vietnam. 

The Trade Envoy said what the two governments have to do now is to make sure that businesses are allowed to create the trade and the transactions they need to do and that those businesses are being introduced to each other, setting up networks where they can then take it forward ultimately.

Commenting on Vietnam's opportunities, the Trade Envoy said Vietnam is increasingly significant to the UK's trade agenda and its growing focus on ASEAN and Asia-Pacific, believing Vietnam-UK trade continues to grow with immense potential for commercial partnerships across a broad range of sectors. 

The Trade Envoy saw Vietnam as a very exciting country with a population of 102 million and a desire to be a high-income country, believing Vietnam will be an exciting market in the years to come.

Garnier said discussion is underway with Ho Chi Minh City about the possibility of setting up a financial services hub with wholesale financial markets, financial advice, stock markets where the UK can help with.

He stressed foreign investors, including those from the UK, are becoming increasingly sensitive to environmental and climate concerns, saying he was pleased to see Vietnam beginning to lead the way in the region on sustainability. Following Prime Minister Pham Minh Chinh's visit to Glasgow for COP26 in 2021, where he made the historic net zero commitment, international partners successfully agreed a Just Energy Transition Partnership with Vietnam, which will mobilise US$15.5 billion in international technical and financial assistance to accelerate Vietnam's transition from coal to renewable energy.

According to him, investing now in clean infrastructure and high-tech climate solutions will be vital for Vietnam to maintain its attractiveness to investors and sustain its economic growth in the coming decades. He pointed out the business community has an important role to play in enabling this, which will not only allow Vietnamese products to enter markets with high environmental and quality standards such as the UK, but will also attract more UK investors to Vietnam.

In his capacity as Trade Envoy, Garnier is committed to further deepening bilateral trade and investment ties, forging new and fruitful commercial partnerships between the two countries' companies, and ensuring further collaboration on trade policy and market access issues.

As UK businesses are ever more conscious of the opportunities available in the Vietnamese market, the Trade Envoy also said, in his role, he would do his best to ensure the profile of Vietnam continues to rise amongst UK businesses and to see UK investment into Vietnam continue to increase.