US investors pour billions of dollars into Vietnam's enterprises
Chủ Nhật, 24/09/2023, 16:35
Many US large corporations have invested billions of dollars in Vietnam as they have seen the strong development of the economy.
The Foreign Investment Agency (FIA) reported that as of the end of 2022, US businesses had invested in 1,216 projects in Vietnam with total investment capital of US$11.4 billion. The US is the 11th largest foreign investor in Vietnam.
Real estate, tourism
Warburg Pincus has become a familiar name to Vietnamese investors. It is the US investment fund that Vietnamese Prime Minister Pham Minh Chinh had a working session with during his visit to the US in May 2022.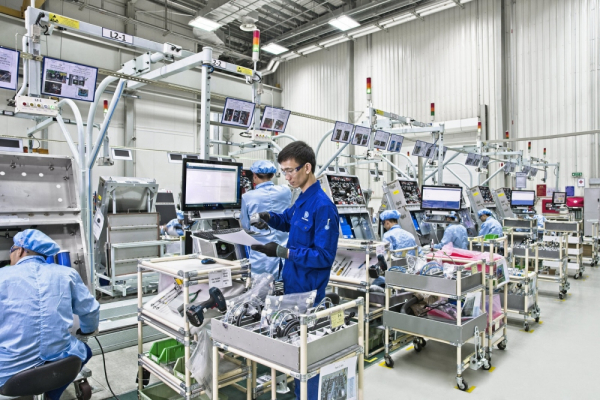 Warburg Pincus is known as a fund that makes huge investment deals worth hundreds of million dollars each time. It has invested billions of dollars in a number of Vietnam's leading enterprises.
This is one of the oldest and largest private investment funds globally with headquarters in New York. Vietnam is the third biggest investment destination in Asia for the fund, following China and India.
In June 2022, the group of investment funds led by Warburg Pincus wrapped up an investment deal with US$250 million injected in Novaland, a real estate developer in Vietnam.
The investment, analysts say, affirmed the fund's long-term investment strategy in Vietnam as the largest private investment fund with US$1.5 billion dollars disbursed so far.
This will help Novaland expand its strategic land bank and complete the development of key projects now under execution.
The deal with Novaland is the sixth investment deal in Vietnam of the fund.
The first deal of the fund in Vietnam was in 2013, when it spent US$200 million to acquire 20% of Vincom Retail (VRE), which was then owned by billionaire Pham Nhat Vuong.
After that, Warburg Pincus and VinaCapital reached agreement on establishing a joint venture specializing in investment and hotel development and management.
Later, the joint venture made a series of investment deals, including the acquisition of 100% of shares of Serenity Holding, which manages some well known brands such as Fusion Resorts, Fusion Suites, Alma Resort and À La Carte Living.
The joint venture also bought 50% of shares of Metropole Hanoi and 100% of Ho Tram Project Company, which owns The Grand Ho Tram project in Ba Ria - Vung Tau. It also teamed up with Becamex IDC to development industrial real estate with hundreds of millions of dollars.
In mid-2020, a group of foreign investors led by KKR, a US fund, and Temasek spent VND15.1 trillion, or US$650 million to buy 200 million shares (6% of charter capital) of Vinhomes, the real estate developer belonging to Vingroup. With the deal, the investors became the biggest shareholder of Vinhomes.
In early 2018, Warburg Pincus announced an investment deal worth US$370 million, or VND8.4 trillion from the two legal entities managed by the group in Techcombank, one of the largest joint stock banks in Vietnam.
Later, the fund continued to inject money into MoMo after Series C and Series D capital call rounds. The amount of investment capital was not publicized. MoMo has recently affirmed that its value exceeds US$2 billion, becoming one of Vietnam's technology unicorns.
Technology and retail
The KKR Investment Fund Management Company made its presence in Vietnam very early. It is one of the largest investment companies, managing assets worth US$370 billion in total.
KKR became a big shareholder of Masan Consumer, a subsidiary of Masan Group owned by billionaire Nguyen Dang Quang in 2011 with initial investment value of US$159 million. In 2013, KKR poured another US$200 million into the company, raising its ownership ratio to 18.4%. In 2017, the fund injected US$250 million more into Masan Group and Masan Nutri-Science, which has changed its name to Masan MEATLife.
In mid-2021, KKR poured US$100 million into EQuest, an educational institution in Vietnam, according to DealStreetAsia.
In the field of technology, FPT Group in 2017 reached an investment cooperation agreement with Synnex Technology, the third largest distributor of technology products in the world. 
US FDI in Vietnam has been increasing in recent years. In 2022, 91 projects were registered, capitalized at US$748 million. To date, US investment has reached US$11 billion.
In late March, a large delegation of US businesspeople came to Vietnam. They represented 52 US companies, operating in the fields of national defence, drugs, and technology, including Boeing, Bell, UPS and Coca Cola, to discuss investment and business opportunities in Vietnam.