Vietnam's Cao Phong orange hits UK shelves
Thứ Năm, 09/03/2023, 21:24
PSNews - Vietnam's Cao Phong orange is sold at the Longdan supermarket chain in London and some other cities in the UK, marking the return of this specialty to the global market after over 40 years.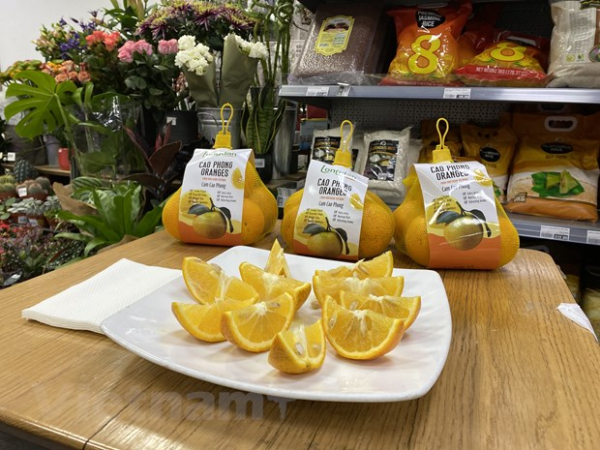 The Cao Phong orange from the northern province of Hoa Binh is now officially put up for sale in the UK. According to the Vietnam's Trade Office in the UK, the nearly 7 tonnes of Cao Phong orange, exported via the official channel by the Hoa Binh-based RYB Joint Stock Company, met strict quality, food safety, and origin standards, including passing the testing for nearly 900 chemical elements in plant protection products.
The fruit is sold at the Longdan supermarket chain in London and some other cities in the UK. It is also distributed to other local wholesalers and retailers of Asian products.
In February, Longdan, the biggest importer of Vietnamese goods in the UK, also purchased over 5 tonnes of the red-flesh pomelo farmed in Tan Lac district and 11 tonnes of the Dien pomelo farmed in Yen Thuy district of Hoa Binh province. This was also the first time the citrus of the two varieties cultivated in Hoa Binh had been officially exported to the UK.
Nguyen Canh Cuong, Trade Counsellor of Vietnam's Trade Office in the UK, said the successful export of pomelo and orange has shown Vietnamese producers and exporters' breakthrough progress in meeting quality and Global GAP production standards.
The UK has great demand for orange and pomelo, especially orange, he said, noting that it imports about 420 tonnes of orange worth some 263 million GBP (315 million USD) each year, mainly from Spain, South Africa, Morocco, and Egypt.
While most of fresh fruits from Vietnam such as lychee, mango, and dragon fruit face certain preservation difficulties, orange and pomelo can be kept for a longer time thanks to their characteristics, especially pomelo.
However, Cuong added, businesses should pay attention to prices to stay competitive and expand their market share in the UK. Besides, as the Vietnamese orange and pomelo are new products here, the firms also need to have appropriate marketing strategies, especially digital marketing, to introduce them to local consumers.