Vietnam, US hold huge potential for economic cooperation
Thứ Sáu, 03/11/2023, 14:36
Vietnamese and U.S. businesses should increase partnership to bring the two countries' trade value to a new record of $200 billion,  according to Vietnamese Deputy Prime Minister Tran Luu Quang.
The ties binding Vietnam and the US will be further strengthened as both sides hold huge potential for economic, trade and investment collaboration following the upgrade of the bilateral relations to a Comprehensive Strategic Partnership in September, Deputy Prime Minister Tran Luu Quang said at the US–Vietnam Business Summit 2023 in Hanoi on October 31.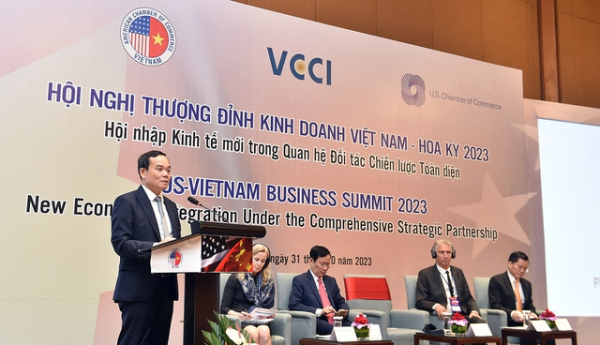 US is currently the second largest trade partner of Vietnam, while Vietnam has become one of the 10 biggest trade partners of the US and an important link in the US's global supply chain.
Nearly 30 years after the establishment of diplomatic relations, bilateral trade increased 300 folds to 124 billion USD, making the US the biggest importer of Vietnam. The US is injecting 11.8 billion USD in 1,306 valid projects in Vietnam, ranking 11th among the foreign investors in the Southeast Asian country. 
"Businesses in the two countries should boost their cooperation in economics trade to bring their two‑way trade to 200 billion USD, making the US one of the 10 biggest foreign investors in Vietnam. They should also raise a strong voice for Vietnam to be recognized as a market economy", Deputy Minister Tran Luu Quang said.
Meanwhile, in her video speech, US Secretary of Commerce Gina Raimondo, said Vietnam and the US share many opportunities to deepen trade and investment cooperation.
"Here at the Commerce Department we're working a multiple frames to seize these opportunities. This includes alleviating supply chains challenges in critical sectors from medical devices to semi conductors, collaborating our clean energy to help Vietnam meet its climate commitments, and we're finalizing the Indo-Pacific economic framework", she added.