Vietnamese rice enjoys advantages due to rise in export orders and price
Thứ Sáu, 26/05/2023, 10:10
Vietnamese rice has seen a number of advantages of export markets as both orders and selling prices have increased sharply, according to industry insiders.
Most notably, there were some bright spots recorded in the rice export picture in the initial months of the year as Trung An Hi-tech Agriculture Joint Stock Company exported a shipment of over 2,000 tonnes of high-quality rice to the Chinese market.
Pham Thai Binh, general director of Trung An Company, revealed that after several months of stagnation, China and other major markets are currently purchasing rice from the nation.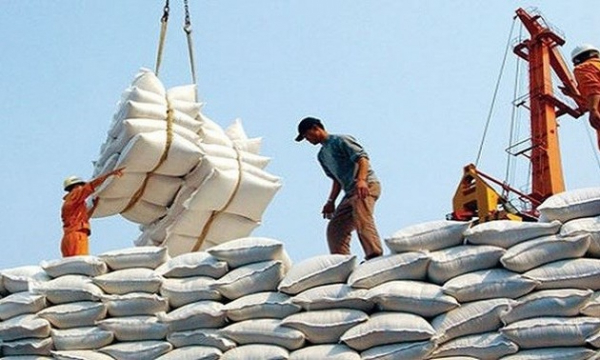 The company continues to negotiate a shipment of about 20,000 tonnes to China moving forward, he added, noting that the Philippines, Indonesia, Malaysia, and various Middle Eastern countries have also expressed an interest in importing Vietnamese rice.
Nguyen Van Thanh, director of Phuoc Thanh IV Production - Trading Co., Ltd, pointed out that with countries moving to increase their food reserves, local businesses have already received a lot of export orders from both traditional and new partners.
"We have temporarily stored between 15,000 and18,000 tonnes of rice and waited until the end of May and the start of June for better price. The move is based on the market demand future orders and the capability to control risks of price and costs," Thanh added.
Statistics compiled by the General Department of Customs indicated that, until May 15, Vietnam exported nearly 3.3 million tonnes of rice worth more than US$1.7 billion, up 37.4% in volume and 48.4% in value.
Tran Ngoc Trung, vice chairman of the Vietnam Food Association (VFA), outlined that there is positive outlook ahead for Vietnamese rice exports in the second quarter of the year due to the demand for food reserves rising.
Furthermore, China's recent reopening is expected to create favourable conditions for rice exporters in the near future. Specifically, Africa has an annual consumption of up to 42 million tonnes, but Vietnam only makes up a small proportion of the overall market share to the continent.
Most notably, the EU gives Vietnam an export quota of 80,000 tonnes of rice per annum, which will help to facilitate rice exports moving forward.
Despite advantages in export markets, local firms are facing a shortage of capital to purchase raw materials in the upcoming summer-autumn crop.
As a means of dealing with this situation, insiders have proposed that the Government and the State Bank of Vietnam (SBV) devise preferential mechanisms and specific policies in order to timely provide rice exporters with capital sources in the coming time.
Moreover, the SBV is required to devise a scheme to stabilise interest rates to help enterprises maintain sustainable production and business activities.