Binh Thuan to set Guinness record for Vietnam's largest kite
Thứ Năm, 26/10/2023, 16:33
The south central province of Binh Thuan will hold a kite festival from October 22-29, during which a Guinness record for the largest kite in Vietnam will be set.
According to the organisers, the kite festival is part of activities to respond to Visit Vietnam Year 2023 themed "Binh Thuan - Green Convergence" hosted by the province. Ten professional kite teams with 1,000 kites will compete on the opening day of the festival, which is expected to attract 3,000 participants.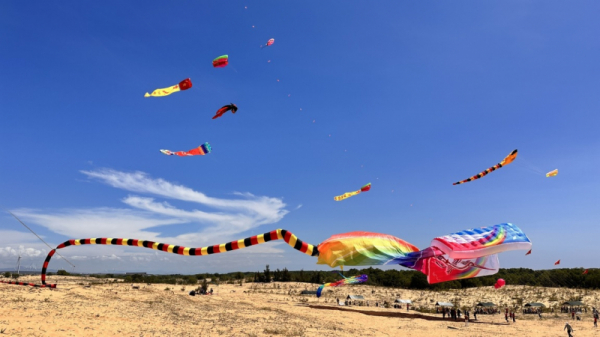 The giant kite, which is expected to set a Guinness record, will be 23m wide and 38m long. A parade of about 60 supercars with different brands will be held on this occasion along with the display of local cuisine and traditional culture of the locality.
According to Binh Thuan province's authority, the kite festival is the type of sport to be held on a large scale for the first time in the province. If the festival is organised successfully, it will create a new sport and tourism product for the locality.
With 192km of coastline, Binh Thuan province is home to islands, islets, coves, bays, and white sand beaches with clear blue water, which form famous tourist attractions.
In the first nine months of this year, Binh Thuan welcomed over 6.9 million visitors, 4% higher than this year's target. Of the total, 200,000 are foreigners, a 4-fold increase year on year. The province earned over 17.67  trillion VND (about 722.4 million USD) from tourism activities in the period, a 2-fold rise from the same time last year.