Huong Pagoda Festival to reopen in January
Thứ Năm, 05/01/2023, 15:36
PSNews - Recently, the My Duc District People's Committee has announced that the Huong (Perfume) Pagoda festival will be reopened in January. Accordingly, the festival's opening ceremony will be held on January 27 at the Thien Tru Pagoda.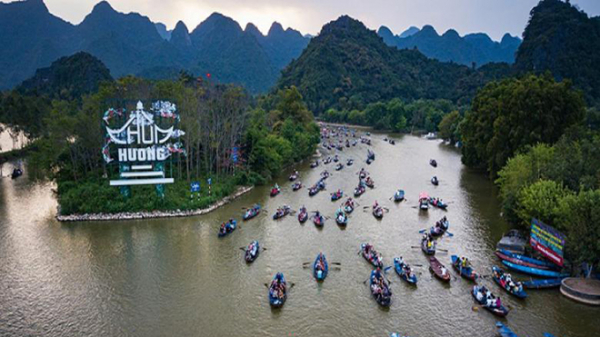 The Huong Pagoda Festival will be held after two years of suspension due to the COVID-19 pandemic. As usual, the 2023 Huong Pagoda Festival will last for three months (from January 23 to April 23).
Tickets for festival goers cost VND80,000 per adult, and VND40,000 per child. Boat return tickets for the Huong Tich route cost VND80,000 per person, while the Long Van – Tuyet Son route is VND35,000 per person.
The local authority has requested ticket agents distribute tickets in electronic form, replacing the previous printed form.
The reopening of festival, one of the country's largest pilgrimage events, will contribute significantly to the country's tourism which is on the road to recovery after the pandemic.
Located in Huong Son Commune, Huong Son Landscape Complex, also known as Huong Pagoda, consists of natural and cultural properties including Buddhist pagodas, caves and temples worshipping local agricultural gods. 
Aside from its religious significance, the complex also holds special values in terms of its ecosystem, landscape, architecture and history. It was recognised as a special national relic site in 2018.
The complex, built under the reign of King Le Thanh Tong (1442 – 1497), was destroyed by French colonialists but has been rebuilt with the support of the State, local residents and visitors.