Ox racing festival in An Giang attracts huge crowd
Thứ Ba, 17/10/2023, 21:25
Ox racing, a distinctive feature of Khmer ethnic culture, attracted thousands of visitors to an event in An Giang last weekend, helping to bolster the Mekong Delta province's tourism.
The Bay Nui (seven mountains) ox racing festival of the Khmer ethnic people opened in Tri Ton district, An Giang Mekong Delta Province on October 14.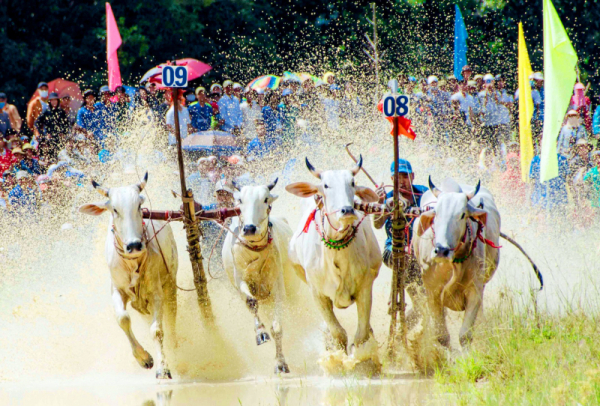 The event was co-organised by the An Giang Provincial Department of Culture, Sports and Tourism and An Giang Radio and Television Station.
This year's festival featured the participation of 56 pairs of ox from Tri Ton, Thoai Son, Chau Phu and Chau Thanh districts, Tinh Bien town (An Giang) and Giang Thanh district, Kien Giang Province.
The annual traditional ox racing festival drew a large number of spectator. This is one of the major traditional festivals of the Khmer people of An Giang province and of the Southwest region as a whole. This festival pays tribute and gratitude to the ancestors and their merits.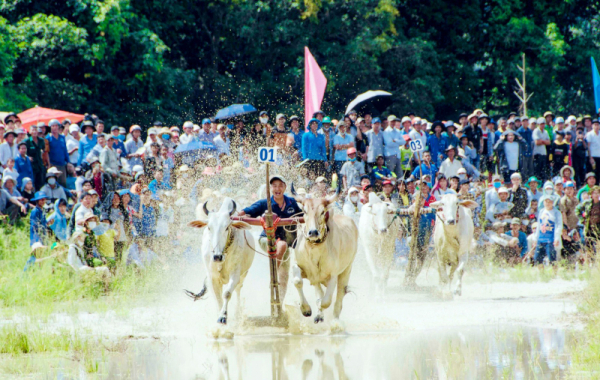 For the folks of the Bay Nui region, ox racing has its own significant meaning. The winning ox pair brings pride not only to their owners, but the entire hamlet also.
During the planting season every year, Khmer farmers bring their oxen to plow the fields of the Khmer temples as charity work. After the charity work, the farmers host a plowing competition for the oxen, to find out which of them are fast and strong.
The monks are assigned referees for this competition and announce the reward for the winners: a traditional rattle named "Ca tha" for the oxen.