PM agrees on pilot plan to welcome foreign tourists to Phu Quoc island
17:33 12/09/2021
The Prime Minister has basically agreed with the Ministry of Culture, Sports and Tourism's proposal on a pilot plan to welcome international tourists with vaccine passports to Phu Quoc resort island for six months from October.
In a document issued on September 10, the Government asked the provincial People's Committee to coordinate with the Ministry of Health, the Ministry of Culture, Sports and Tourism and relevant agencies to collect opinions from organisations, associations and businesses in order to develop and issue a specific plan for the implementation.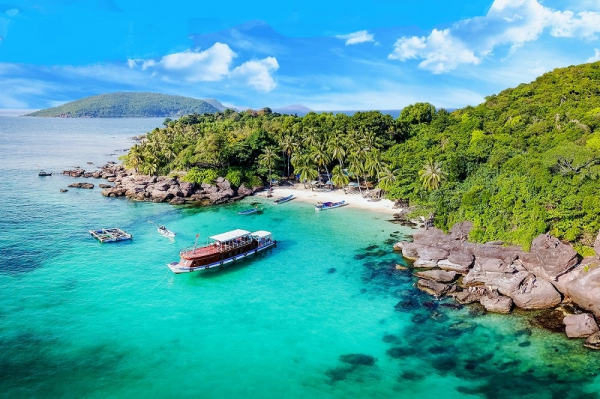 The Ministry of Health will work with the Ministry of Information and Communications, the Ministry of Public Security and the Ministry of Foreign Affairs in guiding the issuance of certificates of vaccination against COVID-19, and distributing vaccines to swiftly inoculate people living and working in Phu Quoc island city.
The Ministries of Culture, Sports and Tourism; Health; Public Security; National Defence; Foreign Affairs; Transport; and Information and Communication and related agencies are required to coordinate with, guide and support the provincial People's Committee in implementing the plan.
According to a draft pilot scheme, the plan targets foreign tourists who have been fully vaccinated against COVID-19 or those with certificates of recovery from COVID-19 recognised by an authorised agency in Vietnam.
Eligible tourists should be given their second shots at least 14 days and no more than 12 months before their entry. For those who have recovered from COVID-19, the time from hospital discharge to their entry date must not exceed 12 months.
Travelers will be requested for a RT-PCR test within 72 hours prior to their departure, and certified negative for COVID-19 in English by authorities of the country that conduct the test. The scheme will be applied for visitors who have registered to join package tours of travel agencies.