UNESCO recognises Xoe Thai dance as Intangible Cultural Heritage of Humanity
Chủ Nhật, 19/12/2021, 13:23
PSNews - The United Nations Educational, Scientific and Cultural Organization (UNESCO) on December 15 recognised the Xoe dance performed by the Thai ethnic minority people of Vietnam as the Representative of the Intangible Cultural Heritage of Humanity.
The honour was unveiled during the 16th session of the UNESCO's Intergovernmental Committee for the Safeguarding of the Intangible Cultural Heritage that is taking place from December 13 to December 18. 
Along with 48 other nominations, Xoe Thai has successfully met all five criteria set forth by UNESCO. The recognition of Xoe Thai as the Representative of the Intangible Cultural Heritage of Humanity therefore affirms the international community's appreciation of Vietnamese cultural values.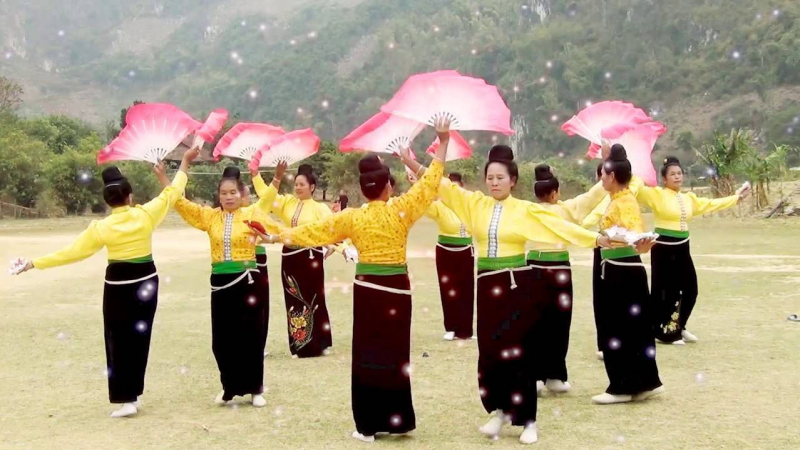 It also serves to elevate the country's position as part of the world's intangible cultural map, and at the same time to promote the UNESCO's endeavor to preserve and develop heritage values.
Ambassador Le Thi Hong Van, permanent representative of Vietnam to UNESCO, emphasised that the event has contributed to enriching the diverse cultural landscape of Vietnam in particular and of the world in general.
It has also helped to introduce the quintessential nature of Vietnamese culture full of tradition and identity, as well as to elevate the image of a dynamic country and a friendly, hospitable people to the wider international community, Ambassador Van said.
She added that the inscription is anticipated to facilitate economic and cultural development in localities and communities in a sustainable manner.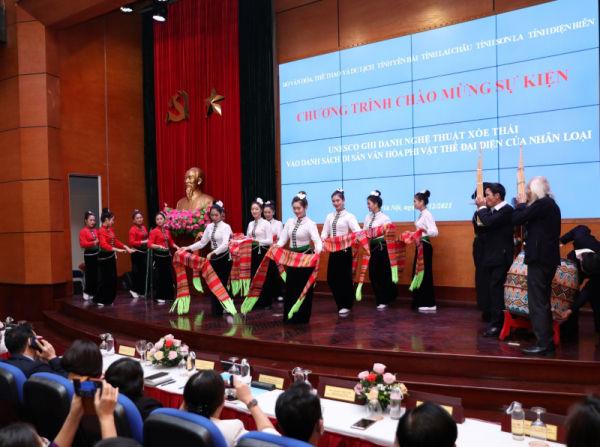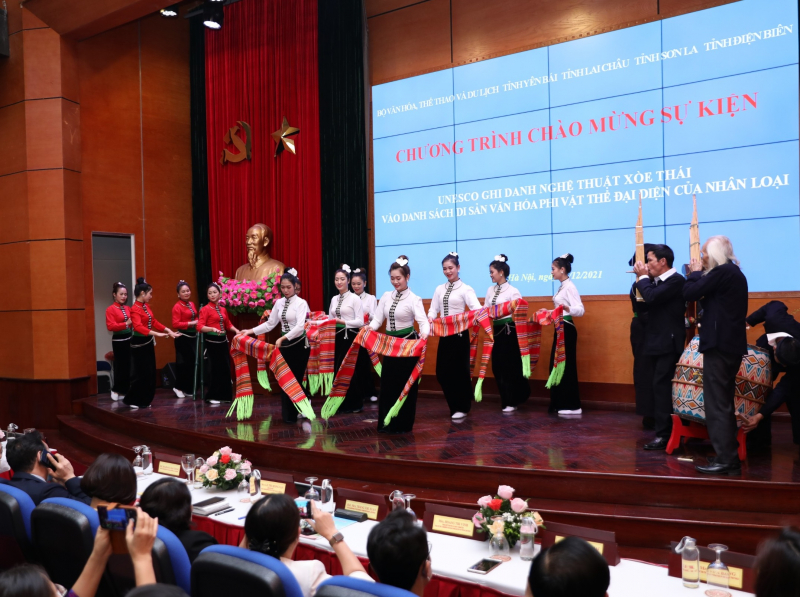 Xoe is a unique type of traditional dance that is associated with and plays a significant role in the daily life of Thai ethnic communities in the northwest of Vietnam, especially in the provinces of Lai Chau, Dien Bien, Son La and Yen Bai. It is performed in various community activities from festivals to funeral rituals.
There are about 30 Xoe dances, which have been developed, protected and handed down through generations intact over hundreds of years, including xoe quat (xoe dance with a fan), xoe khan (xoe dance with a scarf), xoe non (xoe dance with a conical hat) and many others with contents reflecting community activities and expressing the Thai people's emotion. With gentle and alluring rhythms, dancers usually form a circle around a festive flame and move to the sound of melodic traditional music.
Xoe Thai is Vietnam's 14th intangible cultural heritage recognised by UNESCO and also the fifth that has won the organisation's title this year.