'Lacameo' painters showcase beauty of life and femininity
Thứ Sáu, 17/11/2023, 14:29
PSNews - Lacameo, a group of four female artists from Hanoi is showcasing their outstanding works at an exhibition featuring different angles of life including the beauty of femininity and medication.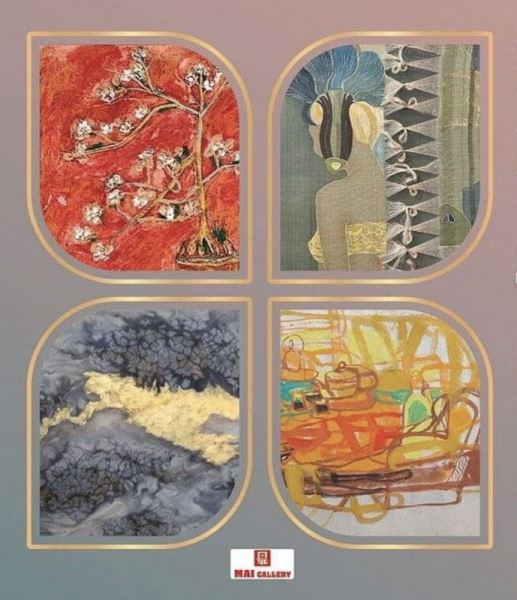 The group gathered four artists who are Nguyen Thu Huong, Nguyen Mai Loan, Phan Minh Bach and Ngo Binh Thi. They have been close friends since they were students at the Việt Nam University of Fine Arts (VNUFA) and experienced hardships together in their lives and careers.
Among them, artist Phan Minh Bach has been engaged in professional painting since 2018. Before that, she was a newspaper designer and a researcher of ancient culture and art. She also studied drawing techniques and using pigments on do and tuyen paper, silk canvas and making art books. 
Meanwhile, lacquer is the traditional material that artist Nguyen Mai Loan pursues and uses the most to create as she has loved it very much since she was a student at the VNUFA. Loan possesses 20 years of experience in art research and criticism. She works at the VNUFA's Institute of Fine Art and has participated in many exhibitions held by the university.
Artist Nguyen Thu Huong is specialising in silk painting with any of her works focusing on female body (nude). In her eight works displayed at the exhibition, she notably uses new technical manipulations to improve the surface of the silk to reflect her main ideas.
Artist Ngo Binh Nhi has been pursuing professional composition since 2013 with three solo and many group exhibitions. Nhi prefers a liberal and expressive painting style even though her paintings mostly revolve around Buddhist themes - the religion she has practiced for many years.
In this exhibition themed Lacameo 4x4, the group present a total of 48 paintings at Mai Gallery in Hanoi city until November 26, giving views of humanity and the relationships between humans and human situations, which art pursues.
This is the second time the Lacameo group has exhibited their latest paintings since last year when the artists displayed their works at Art Space of VNUFA.