100 volunteers join clinical trial of mRNA COVID-19 vaccine ARCT-154
18:35 16/08/2021
The Hanoi Medical University on August 15 started phase 1 of a clinical trial of a COVID-19 vaccine named ARCT-154 vaccine with 100 volunteers from Hanoi.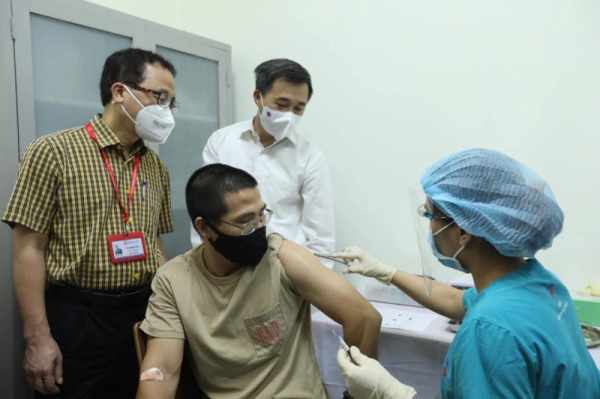 Deputy Minister of Health Tran Van Thuan said this was the third made-in-Vietnam vaccine following the Nanocovax, developed by Nanogen in HCM City, which is in the phase 3 trial, and Covivax vaccine, currently in the phase 2 trial.
He believed that, under the direction of the Government and with the support of domestic and international experts, the clinical trial of the vaccine will be successful and Việt Nam can soon produce enough vaccines against COVID-19.
The vaccine is produced with the same technology as the vaccines manufactured by Pfizer and Moderna. The Ministry of Health looks forward to completing all stages of clinical trials by the end of 2021 and soon finish the building of a vaccine manufacturing facility in the Hoa Lac Hi-tech Park, Hanoi.
All 3 phases of the trial will be carried out in Vietnam with the participation of volunteers, who are over 18 years old.
The first stage with the participation of 100 volunteers is implemented in the Hanoi Medical University. In phase 2, 300 volunteers will be injected with the vaccine, while up to 20,600 volunteers are expected to get jabs of the vaccine in the third phase of the trial.
Professor Ta Thanh Van, Chairman of the Hanoi Medical University Council, the chief researcher of the ARCT-154 vaccine clinical trial, said some 800 people volunteered to join the trial after 2 days of the announcement. Through screening, more than 100 people had been qualified and selected.
Following the direction of the Prime Minister and leaders of the Ministry of Health on the transfer of COVID-19 vaccine technology, VinGroup's VinBioCare Biotechnology JSC acquired the mRNA vaccine technology from Arcturus Therapeutics, Inc., an American RNA medicines biotechnology company. The economic group will invest in the construction of the vaccine factory in the Hoa Lac Hi-Tech Park.