12th graders return to school in Hanoi
15:20 07/12/2021
High school seniors in Hanoi returned to their schools on December 6 after months of school closure and online learning due to the COVID-19 pandemic.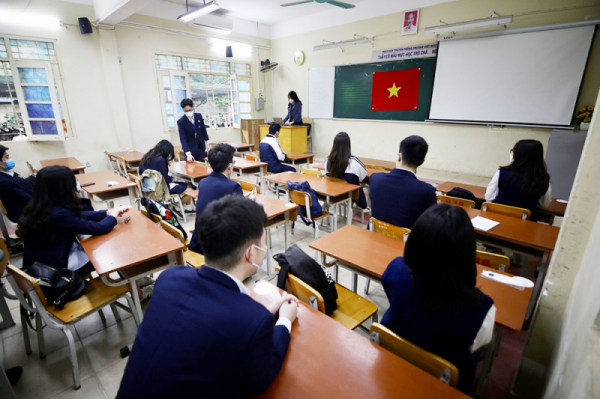 But, each class is divided by half. If the first half of the students goes to school today, the other half learns online and vice verse. This aims to reduce the risk of infection.
On the first day of reopening, local schools required all students and staff to seriously observe the Health Ministry of Health's "5K message" - khau trang (facemask), khu khuan (disinfection), khoang cach (distance), khong tu tap (no gathering), and khai bao y te (health declaration).
Schools also spent time briefing students on the mandatory medical regulations after the flag-raising ceremony. Teachers are assigned to evaluate students' knowledge after the online learning time, and help them effectively study in class so as to successfully complete the first semester, laying ground for the national high school graduation exam in 2022.
Most students are excited to go back to school. Dao Xuan Khanh, student at Viet Duc High School, said face-to-face learning is more effective and going to school helps him relieve stress after a long time staying at home. He affirmed that all students seriously follow the 5K message.
According to Nguyen Boi Quynh, Principal of Viet Duc High School, eight 12th grade groups of the school started face-to-face learning from December 6 while the other 8 studied online.
The school has developed suitable timetables for students and arranged different entrances and exits of the classrooms and school to minimize the risk of infection. He stressed, the school administration  has prepared sufficient medical supplies for possible scenarios of infection in the school.
As Hanoi decided to reopen schools when COVID-19 cases are on the rise in the capital city, the administration of each school opened Q&A forums on social networks to respond to questions from students' parents.
On December 6, 15 delegations of the Municipal Department of Education and Training visited high schools in the city and inspected their organization of face-to-face teaching and learning.
Tran The Cuong, Director of the Municipal Department of Education and Training leading a delegation, went to Viet Duc High School in Hoan Kiem district. He stated that it is an important time for 12th graders to prepare for their national high-school graduation exam so the authorities, schools and families have reached consensus to reopen schools for them to learn in class.