Hanoi ready for largest-ever vaccination campaign
21:44 22/07/2021
PSNews - The capital city of Hanoi is preparing to launch the largest-ever COVID-19 vaccination campaign to reach herd immunity against the pandemic soon.
In order to implement the "dual targets" of preventing the pandemic and boosting socio-economic development at the same time, the capital city has defined the 5K message and vaccination as well as technology application as the key solutions.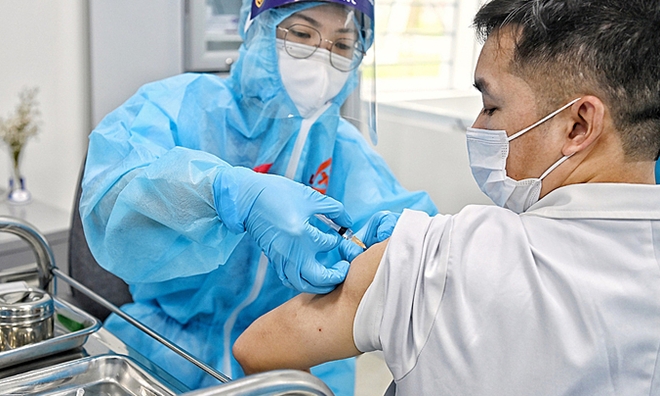 Hanoi ready for largest-ever vaccination campaign.
So far, the city has made necessary preparations to ensure that the campaign will take place in a successful and safe manner.

According to the municipal Department of Health, Hanoi has about 5.1 million people aged from 18 to 65 who are subjected to vaccination. After reviewing necessary equipment for vaccine storage, the city said that it has a capacity of receiving 1.3 million doses of vaccines at the same time.
If the supply sources are stable, the city will strive to deliver 200,000 vaccine shots per day.
Director of the Department Tran Thi Nhi Ha said that the city will set up 1,200 vaccination facilities across the city, while mobilising 100 emergency teams to stand ready for post-vaccination emergency aid.
People in the targeted groups can register for COVID-19 vaccination in their commune, ward and township or through the COVID-19 vaccination portal and "So suc khoe dien tu" app on their smart phones which is available on both Android and iOS. After receiving the registration, medical staff will make screening and classify groups for vaccination.

Along with preparing for the campaign, the city has actively mobilised support from organisations and individuals for the fund for COVID-19 prevention and control, thus increasing financial resources for vaccine purchase.
Due to a limited supply of COVID-19 vaccines globally, Vietnam has been embarking on a vaccine diplomacy strategy with major partners and international organisations.
At present it has reached agreements and contracts with various vaccine manufacturers and international organisations to secure 130 million doses, with this supply set to come from COVAX, Oxford/AstraZeneca, Pfizer/BioNTech, Sputnik V, and Sinopharm.