Important archaeological discoveries at Thang Long Imperial Citadel
Thứ Bảy, 24/04/2021, 16:17
The Thang Long - Hanoi Heritage Conservation Centre has coordinated with the Vietnam Institute of Archaeology to announce the results of archaeological excavations at Kinh Thien Palace area at Thang Long Imperial Citadel in 2021.
Latest archaeological findings at the Kinh Thien Palace in the Thang Long Imperial Citadel in Hanoi have provided more information on the ancient structure of the palace, making the restoration of the palace more feasible, according to the Thang Long-Hanoi Heritage Conservation Centre.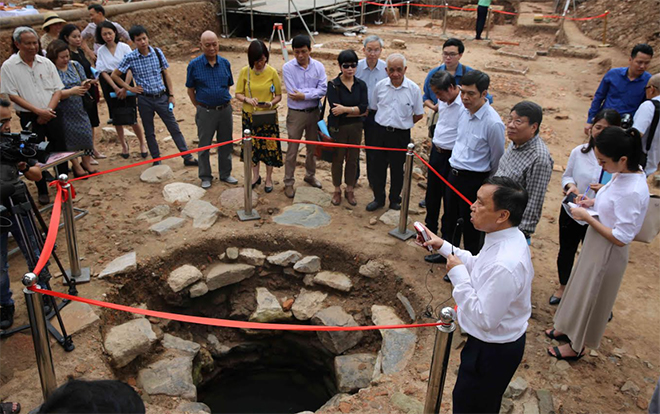 At an excavation site in the Kinh Thien Palace.
During an excavation recently carried out on an area of nearly 1,000 sq.m in the Kinh Thien Palace's East - North area, scientists found cultural layers and archaeological artifacts dating back to a period between the 7th - 9th centuries and the 19th-20th centuries during the dynasties of Dai La, Dinh - Tien Le, Ly, Tran, Le and Nguyen.
For the first time at Thang Long Imperial Citadel, scientists found a very unique architectural vestige of the Tran Dynasty. It is a circular architectural vestige with a diameter of more than five metres, surrounded by traces of underground culverts and a dense cultural layer of bricks and fire traces and marine mollusc shells.
Next to that is a beautifully decorated terracotta pot, up to 1.2 metre in diameter. Initially, the scientists evaluated that it could be a miniature decoration, or an architectural vestige related to spirituality. Typical of the Le Dynasty artifacts is the architectural model piece with green glaze of the Le Dynasty.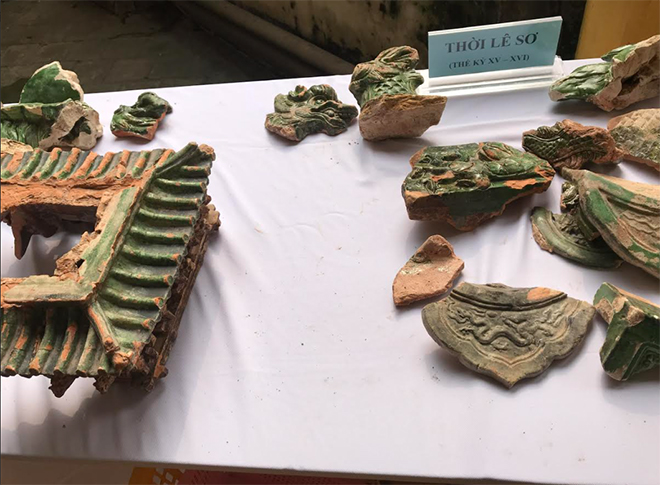 Relics found at Thang Long Imperial Citadel.
Architectural traces and artifacts, and related ancient bibliographies provide the basis for the restoration of the palace's architecture, experts said.
At a meeting on April 22 in Hanoi to review recent archaeological excavation activities, scientists stressed the need to accelerate the restoration of Kinh Thien Palace.
According to Tran Dinh Thanh, Deputy Director of the Department of Cultural Heritage under the Ministry of Culture, Sports and Tourism, the Kinh Thien Palace is a symbolic work for the history of Thang Long Imperial Citadel, so the Hanoi authority and the ministry have worked hard to speed up the restoration.