Quang Nam acts to protect last remaining wild elephants
Chủ Nhật, 18/07/2021, 16:11
PSNews - A handful of endangered wild elephants have stayed hale and hearty roaming freely in a sanctuary in the central Vietnamese province of Quang Nam, thanks to the efforts of the local authorities.
Over the past several years, the Quang Nam Elephant Sanctuary, snugly nestled in the province's Nong Son District, has been a sweet home to endangered wild elephants.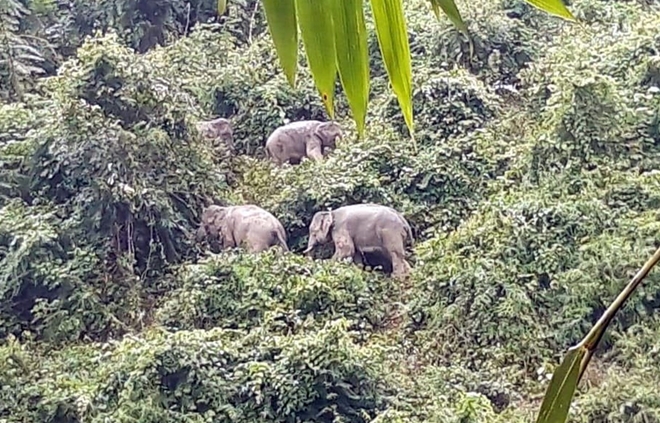 Four adult elephants and a calf caught on camera at the Elephant Habitat and Species Conservation Area in Quang Nam Province.
The elephant protection area, launched in 2017, is part of the United States Agency for International Development (USAID)-funded Green Annamites Project.
This protected area covers 19,000 hectares of critical habitat for one of the last groups of endangered Asian elephants in the province. The US Government through USAID is working with Quang Nam's leaders to improve the livelihoods of locals living in and around the protected area, conduct biodiversity monitoring, and raise conservation awareness among locals.
According to authorities, the number of elephants across Vietnam, including in the Central Highlands, an elephant tourism hub, has dwindled to a worrying level in recent years.
Dozens are still kept in captivity, usually used for elephant rides, backbreaking work that has rendered most infertile today, while their wild counterparts do not fare any better and have shown little promise of boosting their numbers.The country currently boasts around 100 endangered elephants living in the wild.
A herd of eight Asian elephants, an endangered species listed by the International Union for Conservation of Nature — is the Quang Nam sanctuary's recent pride.
Data from the Vietnam Administration of Forestry shows that in seven years between 2008 and 2014, the natural forest area in the Central Highlands, which used to be the biggest habitat for elephants in Vietnam, shrank by more than 358,700 hectares.
Thus, it is very important to conserve a large area of forest as it can create a suitable living space for the elephants.
Apart from keeping the forest safe for the elephants, the Quang Nam's province has also worked on making sure locals know how to respond if they see elephants near their neighborhood. Training courses have been organized to equip farmers with skills to send the elephants away without harming them in any way.