Vietnam launches largest-ever COVID-19 vaccination campaign
20:06 10/07/2021
The Ministry of Health launched a nine-month COVID-19 vaccination campaign in Hanoi on July 10, aiming to vaccinate 75 million people and achieve herd immunity by early 2022.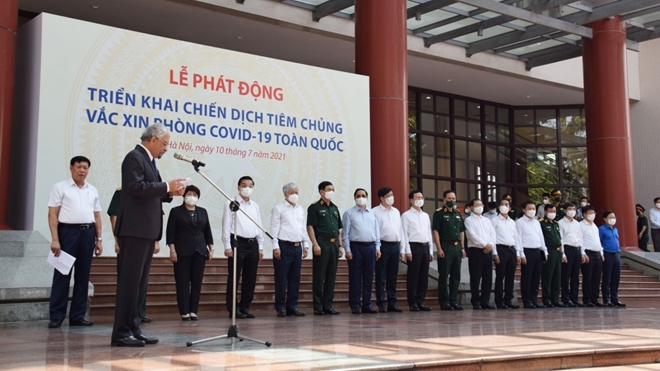 PM Pham Minh Chinh, Health Minister Nguyen Thanh Long and many other leaders attend the ceremony, showing their support for vaccination.
The campaign, the largest of its kind in the country's history, will be implemented on a national scale from July 2021 to April 2022, with the support of the Ministry of National Defence, Ministry of Transport, Ministry of Information and Communication, along with other ministries and agencies.
The start of the process comes at a time when Vietnam is battling against a fourth wave of the COVID-19 pandemic following a resurgence of the SARS-CoV-2 virus in late April.
Over the past two months, the virus has spread to 55 out of 63 cities and provinces nationwide, with more than 23,000 positive cases confirmed, approximately 10 times more than the total figure recorded in the three previous waves.
While infection numbers continue to increase, the vaccination rate remains low compared to other countries. Indeed, so far approximately four million doses of the COVID-19 vaccine have been administered in localities throughout the country.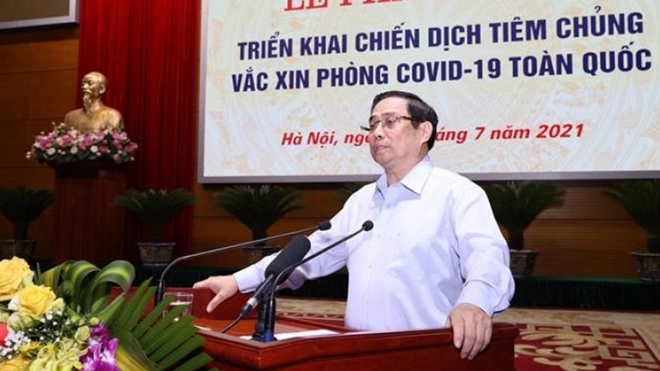 PM Pham Minh Chinh has set a target of vaccinating 75 million people or 75% of Vietnam's population by early 2022.
Addressing the inauguration ceremony of the national vaccination campaign, Prime Minister Pham Minh Chinh set a target for the country to vaccinate 75% of its population by early 2022.
"Vietnam will try its best to secure 150 million doses of COVID-19 vaccines in order to inoculate 75 million people by early 2022," said PM Chinh.
Due to a limited supply of COVID-19 vaccines globally, Vietnam has been embarking on a vaccine diplomacy strategy with major partners and international organisations.
At present it has reached agreements and contracts with various vaccine manufacturers and international organisations to secure 130 million doses, with this supply set to come from COVAX, Oxford/AstraZeneca, Pfizer/BioNTech, Sputnik V, and Sinopharm.
Recent weeks have seen Vietnamese leaders meet or phone other foreign leaders and receive support for the transfer of vaccine production technology from Russia, Cuba, Germany, and others.
Meanwhile, local pharmaceutical firms and research institutes are speeding up the process of research and development for COVID-19 vaccines. Nano Covax, one of two locally-produced vaccines, is now entering its third and final phase of human clinical trials, and it is therefore expected to be commercially marketed by early next year.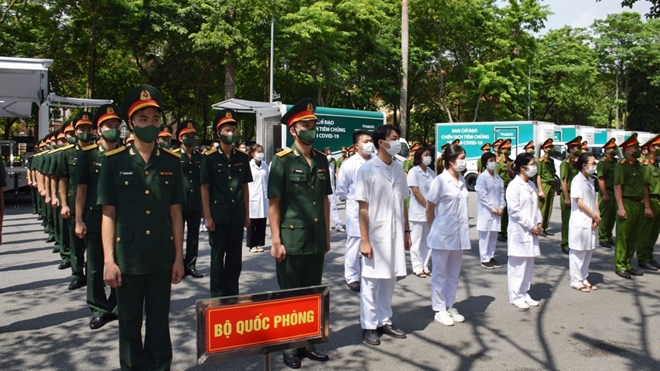 The nine month campaign needs assistance from other forces such as military and police
The ceremony also saw PM Chinh underline the importance of vaccination, considering it to be the most effective way to repel the COVID-19 pandemic. He also warned people that they should remain highly vigilant against SARS-CoV-2 and strictly abide by COVID-19 guidelines set out by the Ministry of Health.
Vietnam received 2,00,040 doses of the Moderna COVID-19 vaccine on July 10 through a donation by the United States as part of the 80 million dose package that US President Joe Biden has committed to sharing with other countries worldwide.
The previous day, Pfizer/BioNTech delivered more than 97,000 doses of its vaccine Comirnaty to Vietnam. The shipment is part of the 31 million dose contract the Ministry of Health signed with the US manufacturer this year.