Vietnam to approve locally produced Nano Covax vaccine for emergency use
09:15 23/07/2021
The Ministry of Health and the Ministry of Science and Technology met on July 22 to examine Nanogen's proposal to approve its COVID-19 vaccine Nano Covax for emergency use in Vietnam following the encouraging results of its human clinical trials, phase III.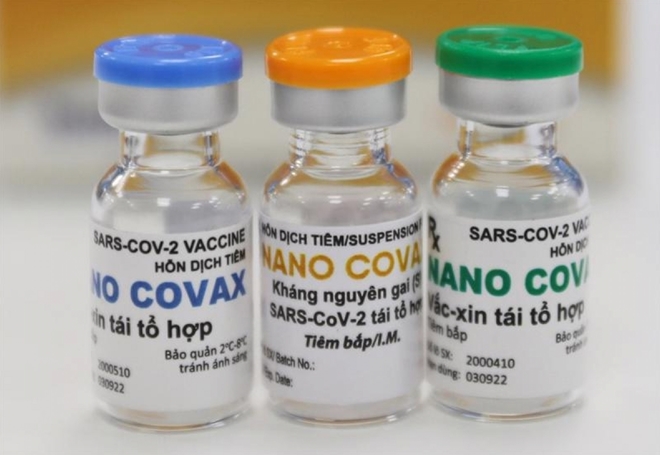 Testing results show the immunogenicity of Nano Covax vaccine has reached 99.4%.
A representative of Nanogen Pharmaceutical Biotechnology JSC, the developer of Nano Covax, said more than 13,600 people have volunteered to get the jab in the three phases of its clinical trials.
Notably, 13,000 volunteers have received the first shot while 1,004 people have got the second shot during phase III.
Preliminary evaluation reports show the vaccine is safe and it has good immunogenicity, reaching 99.4%, but scientists said they need more time to evaluate the effectiveness of the vaccine.
Prof.&Dr. Pham Ngoc Dinh, a member of the Research Ethics Committee, suggested Nanogen send its samples to foreign laboratories for testing and evaluation to ensure objectivity.
Deputy Minister of Health Tran Van Thuan said the Ministry of Health supports and creates conditions for Nanogen as well as domestic companies in the research, development and production of COVID-19 vaccines, aiming to produce a Made in Vietnam vaccine as soon as possible.
He suggested that Nanogen closely coordinate with the Department of Science & Technology and Training under the Ministry of Health and other research units, as well as scientists to complete the dossier of research results of phase I, phase II and initial results of phase III.
He also asked scientists and experts to soon consider the firm's licensing proposal when they get scientific data showing the vaccine is safe and effective.
Nanogen's Nanocovax is Vietnam's first and only COVID-19 vaccine that has entered the third phase of its clinical trials.
Another locally produced coronavirus vaccine, Covivac, is scheduled to enter the second phase of clinical trials in August.