Vietnam values international supports for COVID-19 prevention and control
17:56 23/07/2021
Vietnam has received valuable support and help from the peoples, governments of other countries and international organizations since the COVID-19 pandemic broke out. Those supports and donations have helped Vietnam overcome many epidemic waves, contributing to Vietnam's success in the fight against COVID-19.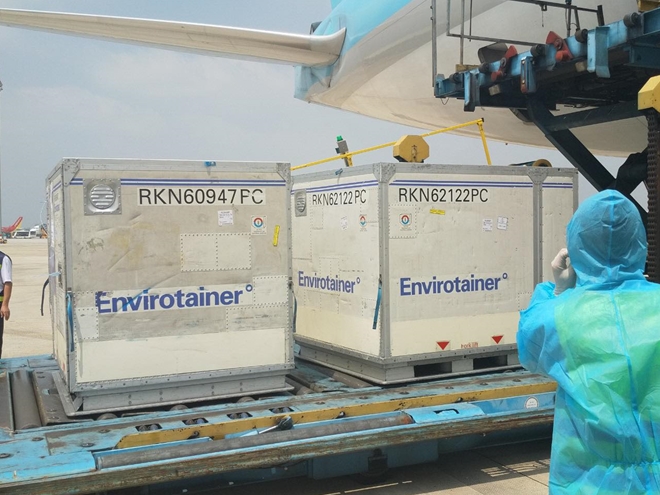 Photo by VGP.
Given complicated developments of the pandemic, especially the appearance of new, more dangerous COVID strains, the Government of Vietnam believes that it is important for the country to have an access to vaccine sources and carry out mass vaccination.
Over the past time, the Vietnamese Party, State, Government, National Assembly and ministries and branches have made special effort to seek COVID vaccine sources via diplomatic channels, and the effort has achieved important outcomes.
Although the world is facing a shortage of COVID-19 vaccines, international partners, neighbors and friends have committed to supplying some 150 million COVID vaccine doses for the country.
To date, Vietnam has received more than 8 million doses of COVID vaccine from countries and partners, including 4.5 million doses through the COVAX mechanism, 2 million doses from the United States, 3 million doses from Japan, 500,000 doses from China, and 1,000 doses from the Russian Federation.
Other partners also pledged to support vaccines for Vietnam in the coming time. Notably, COVAX will offer more than 1 million doses, the United States will support 3 million more doses through the COVAX mechanism, Romania will donate more than 100,000 doses, and Australia has been committed to give 1.5 million doses to the country.
In addition, India, the UK, Australia, Cuba and Germany have also promised to grant COVID vaccines or transfer COVID vaccine technology to, Vietnam.
The largest-ever vaccination campaign is being carried out across the country. By July 20, more than 4.3 million people have been vaccinated, including about 4 million people getting the first shot and more than 300,000 receiving two jabs.
The Party, State, Government and people of Vietnam always appreciate the practical and timely assistance of international friends in the fight against the COVID-19 pandemic.
During meetings, phone talks and letters, Vietnamese leaders all expressed their sincere and deep thanks to leaders of other countries for their precious supports, considering this as a clear demonstration of the good relationships between Vietnam and its international partners and friends.
For its part, Vietnam has also shown its high sense of responsibility to the international community in the fight of the pandemic by joining international efforts in preventing and controlling the pandemic, sharing experience in COVID prevention and treatment and resources for epidemic prevention and control within its capacity. Vietnam has donated 500,000 USD to the COVAX mechanism.