Coronavirus hotspot sees sharp decrease in death rate
15:05 12/09/2021
The number of COVID-19 deaths recorded in Ho Chi Minh City, the largest coronavirus hotspot in Vietnam, has decreased significantly in recent days, signaling the COVID-19 treatment regimen is proving effective, according to health experts.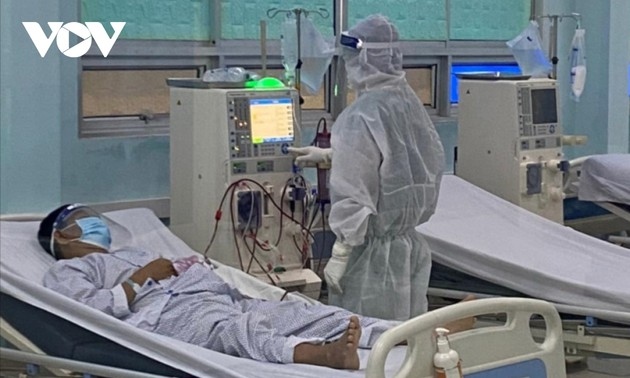 Data from the Ministry of Health show the city, the busiest and most populous locality in Vietnam, registered 340 coronavirus fatalities on August 22, and the figure gradually fell to 245 on August 29 before suddenly rose again to 335 the following day. The figure then kept tumbling to 217 on September 1 and 195 on September 9.
The downward trajectory was attributed to the effective implementation of policies and decisions on COVID-19 prevention and control measures adopted by the health sector, said Pham Duc Hai, deputy head of the Ho Chi Minh City Steering Committee for COVID-19 Prevention and Control.
According to health experts, the opening of more intensive care unit (ICU) centres for COVID-19 patients, the large support of medical equipment, as well as the use of antiviral drugs and anticoagulants in treating patients, have helped to lower the number of critical cases.
Furthermore, the strategy of classifying patients has also played a significant part in lowering the death rate.
The southern metropolis has been categorising COVID-19 patients into three groups for treatment. Patients with asymptomatic or mild symptoms and no chronic diseases can be treated at home or in quarantine facilities. Patients with developing symptoms are hospitalized, while those in severe and critical conditions receive intensive care and treatment at ICU centres.
This strategy has not only helped COVID-19 recovery amid tough conditions, but also allowed for the early detection of patients that could suffer from more serious conditions in order to provide timely intervention and avoid serious progression.
Moreover, the mass vaccination campaign for local people can be viewed as another important factor which has significantly contributed to the reduction in the mortality rate.
Experts said individuals that have been vaccinated did not suffer the same serious conditions as those who have not received the jab.
As of September 9 the southern city has administered more than 7.3 million COVID-19 vaccines, with close to a million people being given two full shots.