COVID-19: Infection cases surge but mortality rate drops
17:38 30/08/2021
The number of COVID-19 infections nationwide is increasing due to the ongoing extensive testing campaign, while effective care measures are resulting in a gradual decline in the death rate, according to the Ministry of Health.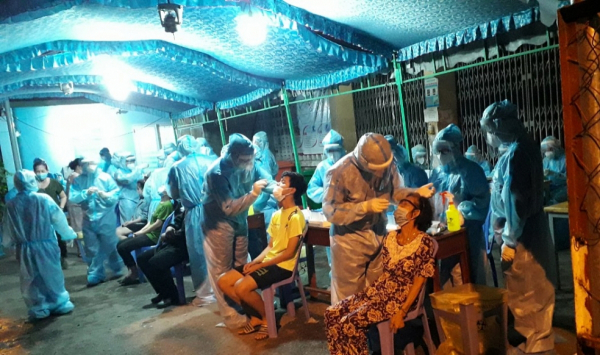 In a recent report submitted to the Government, Health Minister Nguyen Thanh Long stated that the infection rate remains high in Ho Chi Minh City and its neighbour Binh Duong, the country's two largest COVID-19 hotspots. Indeed, approximately half of the daily cases are being detected in the community through test screening or random testing. 
August 29 alone saw Binh Duong and Ho Chi Minh City register 5,414 and 4,957 local cases, respectively, out of a total of 12,796 new cases recorded nationally.
This increase in the number of newly-detected cases can be attributed to the extensive testing campaign which is currently taking place in major COVID-19 hotspots throughout southern Vietnam, including Binh Duong and Ho Chi Minh City, Dr. Long explained in the report.
A prime example of this trend can be seen in Long An and Tien Giang provinces where the number of community cases is decreasing, yet still accounting for between 30% and 50% of the total.
Other southern localities are also seeing fresh outbreaks gradually brought under control with the community infection rate staying at between 7% and 15%. Provinces such as Hau Giang, Ca Mau, Bac Lieu, Binh Phuoc, Soc Trang, and Ben Tre typically have low numbers of community-acquired cases, averaging less than 20 cases per day.
Elsewhere, the outbreaks in Hanoi and several central provinces such as Da Nang, Khanh Hoa, and Phu Yen, are still under control due to the swift and timely implementation of social distancing orders.
Despite these efforts, Dr. Long warned that the COVID-19 pandemic remains complicated, with new outbreaks likely to reoccur in the near future unless drastic measures are strictly implemented. 
He also reported that the mortality rate is undergoing a gradual decline due to effective measures being put in place, including the home-based care service for F0 cases along with the operation of intensive care unit (ICU) centres and mobile medical units.
The Ministry of Health has also dispatched over 16,000 doctors and nurses to assist Ho Chi Minh City and other southern localities in ramping up COVID-19 testing and treatment, reveals Dr. Long.
The Ministry has mobilised a large amount of equipment, ventilators, and medical supplies to these localities, whilst also establishing and operated 11 ICU centres in the southern region, including six in Ho Chi Minh City.
The Minister also said he has requested the provincial Departments of Health to review and upgrade their oxygen supply systems to ensure  there will be no disruption in oxygen supplies in the event that infection cases surge considerably.
As of August 29, Vietnam has recorded 431,072 locally-acquired cases since the resurgence of the virus in late April. As many as 219,802 patients, or half of the total, have since been discharged from hospital after making a full recovery from the disease.
Nearly 11,000 patients have died of the virus and other related illnesses, representing 2.5% of the total number of infections.