Districts in HCMC go on right track to controlling COVID-19
20:39 10/09/2021
Various districts in Ho Chi Minh City, including Cu Chi and District 7, have basically controlled the pandemic.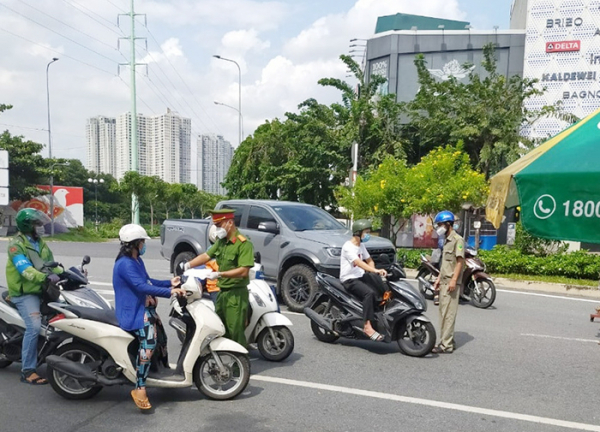 As a result, the number of wards and communes free of infection has increased.
Authorities of districts in HCMC have taken effective measures to stamp out the COVID-19 pandemic, focusing on mass testing to detect, isolate and treat infected patients while accelerating vaccination.
In District 7, the "green" (free of infection cases) wards have been maintained while most of the people in localities with infection cases have been tested for SARS-CoV-2. Some people buy quick test kits to regularly test themselves at home.
The total number of infection cases in the district had reached over 10,300 by September 9, including over 2,600 patients being treated at home and 3,570 others at hospitals.
The authorities of Phu Nhuan District have set up 2 field hospitals and 7 concentrated isolation facilities. They also provide various channels for infected patients to access information and medical support.
The district has established 13 mobile medical teams, composed of 39 military doctors, nurses and volunteers. They are in charge of taking care of patients in 13 wards of the district.
They also give medical instructions to the patients  being treated at home.
The authorities of Phu Nhuan has also deployed 12 ambulances as well as various medical equipment.
Nguyen Dong Tung, Chairman of the People's Committee of Phu Nhuan highlighted the importance of vaccination as well as expert guidance for COVID-19 patients treated at home. The district also sent doctors and nurses to give residents vaccine shots at home.
In Thu Duc City, the authorities have established 58 medical centers with total capacity of nearly 8,000 beds to treat the infected. The district has mobilized a large number of medical workers, 10 ambulances and 37 quick response teams to tackle the local pandemic situation.
Thanks to the effort, the number of severe cases has continuously decreased while the number of released patients has increased and the city is expected to control the pandemic soon.
In some localities, the model of "safe residential area", in which the local authorities established working teams to manage people's entry and exit from their localities, has shown efficiency.
In Cu Chi District, the "safe residential area" model has expanded green zones so there remains only one commune with high risk of infection, 2 communes with medium risk of infection.
As the largest COVID-19 hotspot in the country recently, HCM City has taken all measures with a view to controlling the pandemic by September 15. The model "safe residential areas", mass vaccination and effective support and guidance for patients treated at home hopefully will help meet this end.