Hanoi wins approval for efforts as member of UNESCO Creative Cities Network
Thứ Năm, 27/04/2023, 16:22
Domestic and international experts have acknowledged Hanoi's activeness in implementing its initiatives and commitments as a member of the UNESCO Creative Cities Network, particularly the engagement of the entire community in creative activities.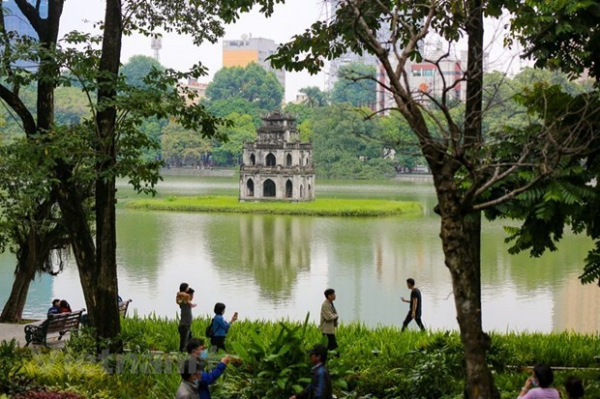 The evaluation was made at an event held by the municipal Department of Culture and Sports and the UNESCO Office in Vietnam on April 25 to review the capital city's performance since it became a member of the network in the field of design four years ago.
Do Dinh Hong, director of the Department of Culture and Sports, said that Hanoi has obtained certain results after four years of carrying out initiatives to promote creative design in its cultural, economic, and social development programmes. Apart from holding national and international workshops and conferences, the city has also devised many mechanisms, policies, and plans to boost the building of a creative city.
Christian Manhart, head of the UNESCO Office in Vietnam, held that Hanoi is moving in the right direction in working to realise its creative city vision.
He said he is impressed with the city's achievements based on the capitalisation of cultural resources, especially the successful organisation of the creative design festival and the provision of conditions for local residents to take part in creative activities.
Manhart expressed his belief that Hanoi will maintain its role as an active member of the UNESCO Creative Cities Network to connect and cooperate with others in the network.
Other experts also shared the view that the capital city of Vietnam has been taking firm steps in implementing its initiatives and commitments to UNESCO.
Dr Nguyen Thi Thu Phuong, director of the Vietnam National Institute of Culture and Arts Studies, recommended that Hanoi should take appropriate steps to realise its ambition of establishing itself as the capital of creativity in Southeast Asia.
It should pay attention to all groups in society, particularly the young and the vulnerable. Creativity competitions need to attract multiple groups of participants. Besides, Hanoi should build a creative city not only for itself but also a role model for others nationwide to develop into creative cities as well, she added.
At the event, participants also discussed Hanoi's cooperation with relevant parties to carry out commitments and suggested the issues that need to be addressed in the coming time.
They said Hanoi has much room for designing and creation activities thanks to the diversity of cultural heritage, traditional craft villages, and other cultural resources, which are endless sources of inspiration for creativity.
Many partners also pledged to give assistance in developing the creative city of Hanoi, raise its stature, and attract other parties in creative activities.