HCM City hosts Tet celebrations for overseas Vietnamese
Thứ Bảy, 07/01/2023, 20:19
The administration of Ho Chi Minh City held a get-together on January 6 to celebrate the Lunar New Year festival, known locally as Tet, for approximately 1,600 overseas Vietnamese returning home from all over the world.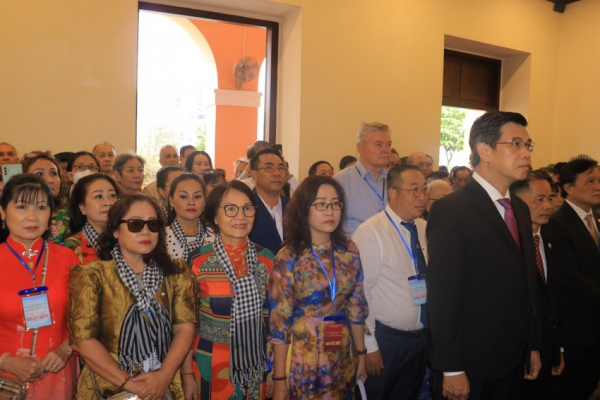 Addressing the event, Nguyen Van Dung, vice chairman of the HCM City municipal People's Council, noted the city respects and highly appreciates valuable contributions that Vietnamese expatriates have made to the city and Vietnam in general over the years.
He expressed hope that the expats would continue to promote the tradition of patriotism and unite with the locality to fulfil all socio-economic tasks ahead in the new year.
The municipal officials also listened to and answered questions related to the city's development policies raised by overseas Vietnamese delegates. They also rewarded overseas Vietnamese collectives, individuals, and enterprises who have made excellent achievements in 2022 to Ho Chi Minh City's socio-economic development.
Early in the morning the delegation paid a floral tribute to President Ho Chi Minh at the President Ho Chi Minh Monument and offered incense to the great leader at the Ho Chi Minh Museum's branch in the city.
During the two-day event, delegates are scheduled to tour around various river tourism destinations, historical relic sites, and visit policy beneficiary families.
They will also attend a theatrical programme celebrating the 55th anniversary of the 1968 Spring General Offensive and Uprising – a rehearsal for the total victory of the Ho Chi Minh campaign liberating southern Vietnam and reunifying the nation in April 1974.