Injured Filipino sailors provided with medical aid at Nha Trang
22:04 17/05/2022
PSNews – Two injured sailors from the Philippines were rescued off Nha Trang coast on May 16 by a Vietnamese marine rescue team.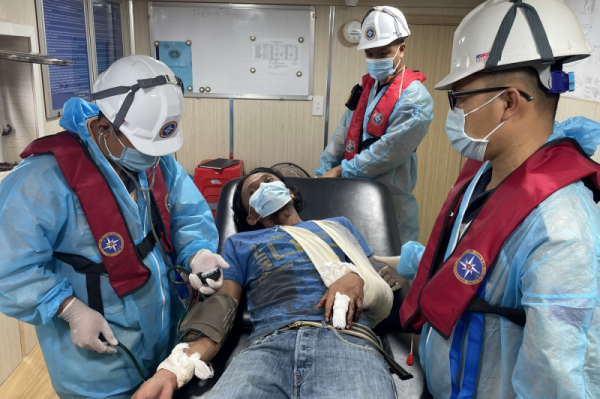 The Nha Trang Maritime Rescue Cooperation Centre (Nha Trang MRCC) on May 16 received information via the radio system from the captain of the Greek's ALPHA AFOVOS ship, requesting medical assistance for two Filipino sailors with multiple injuries due to a work accident.
The two sailors, whose name Vinlacencio Andrillo Baselote and Hamodiong Cresente Jr. Salem, are in critical conditions with serious injuries on the head, ribs and hands.
After receiving the information, the Nha Trang MRCC has immediately dispatched its military medical boat to promptly provide first aid and transport the sailors to the Nha Trang MRCC wharf safely.
At 5.40 pm on May 16, the two injured Filipino sailors were transferred to Vinmec Nha Trang International Hospital for treatment.