Khanh Hoa: Naval ship takes sick fishermen ashore for treatment
Thứ Tư, 10/05/2023, 07:08
PSNews - Naval Region 4 on May 6 handed over two sick fishermen to their families and localities in Cam Ranh city, Khanh Hoa province.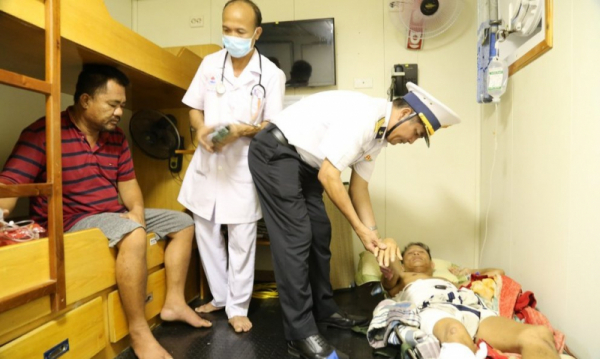 On May 2, Ship 473's crew while performing mission at sea received the higher level's order to head to Phan Vinh (Pearson Reef) A Island in Truong Sa island District, Khanh Hoa Province to receive, provide healthcare for, and take patients ashore.
The two patients were Tran Huu Thanh from Long Hai commune, Phu Quy district, Binh Thuan province, and Nguyen Van Don from Ly Son district, Quang Ngai Province.
Thanh, who worked on trawler BTh 96499 TS, had low blood pressure while fishing at sea. Meanwhile, Son had an accident while working on trawler QNg 96183 TS.
After Naval Ship 473 docked at Binh Minh Port in Cam Ranh city, leaders of the Naval Region 4 Command and functional agencies inquired after patients' health and gave encouragement to them.
At present, the two fishermen's health are stable.
The Naval Region 4 Command handed them over to their families and localities for further treatment at medical establishments.