Local COVIVAC vaccine to enter second phase of clinical trials
09:19 10/08/2021
The National Institute of Hygiene and Epidemiology is set to recruit the first group of volunteers on August 10 for the second phase of clinical trials of the locally-produced COVIVAC vaccine in the northern province of Thai Binh.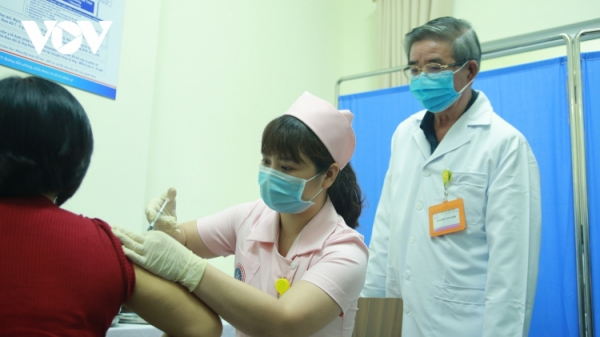 This information was delivered by Dr. Duong Huu Thai, director of the Nha Trang Institute of Vaccines and Medical Biologicals (IVAC).
The move comes following the National Ethics Committee in Biomedical Research hosting a meeting on August 7 aimed at evaluating the results of clinical trials for the first phase of the COVIVAC vaccine. The initial results of the clinical trials prove that the vaccine is both safe and well-tolerated among subjects.
The number of volunteers participating in the second phase will include 375 healthy people aged between 18 and 60. Indeed, the optimal dosage for the second phase will be between 3mcg and 6mcg.
Nguyen Ngo Quang, deputy director of the Department for Science, Technology and Training, said the Ministry of Health will create the most favourable conditions possible for relevant units in order to deploy the clinical trial phase, with the primary aim of developing a COVID-19 vaccine as soon as possible.
The COVIVAC vaccine has been being researched and developed by IVAC since May, 2020. It represents a collaborative project with American universities and PATH organisation.
Three manufacturing units, including IVAC-Vietnam, GPO-Thailand, and Butantan-Brazil have come together to jointly research and develop the vaccine through the technical support of PATH organisation.
The COVIVAC vaccine is a liquid vaccine that comes with or without adjuvants, without preservatives, with the production technology of the Newcastle vector vaccine, and is based on the production technology used in chicken eggs with embryos. This technology is also used to produce local seasonal flu vaccines.
The results of preclinical studies in India, the United States, and Vietnam have so far proved the safety and efficacy of the vaccine.
Currently, the COVIVAC vaccine represents the second homegrown COVID-19 vaccine to be licensed for clinical trial by the Ministry of Health, following Nanocovax.